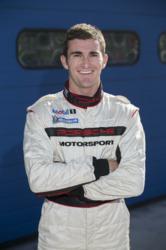 Roboscan possesses a lot of the same characteristics and ambitions that I myself have. Roboscan is a young company, with an incredible product and looking to establish itself globally.
Santa Clara, CA (PRWEB) March 20, 2013
Like many other successful software companies, Roboscan Inc. has made the jump into international motorsports and partnered with Connor De Phillippi, one of two new Porsche Motorsport supported junior racing drivers for the 2013 season.
After a rigorous selection process in Potsdam, Germany and Vallelunga, Italy, De Phillippi was one of two drivers to prevail against young drivers from around the world and chosen by Porsche Motorsport to take part in the 2013 Porsche Carrera Cup Germany. Factors like mental aptitude, physical fitness and technical understanding were all taken into account. In addition, they had to prove their ability to work with engineers, drive simulated qualifying laps, with consistent times over a race distance and consistently show their speed in qualifying laps on fresh tires.
Roboscan Inc. Vice President Leonard Sangbin Lee is more than excited to partner with someone of Connor De Phillippi's caliber. "Roboscan Internet Security prides itself on maximum performance, safety and overall technical excellence. Porsche Motorsport shares many of the same attributes. By them selecting Connor as a representative, both on and off the racetrack, that's a clear sign we have partnered with one of America's great young talents and brand ambassadors." Leonard added, "We are very excited about 2013 and we look forward to forging this partnership into one that not only helps our Roboscan Internet Security brand exposure, but helps Connor rise within Porsche and leads to a long and successful sports car career."
Connor De Phillippi, 20, is a born and raised Californian, from the Southern California beach town of San Clemente. He is now one of only two American drivers with current support from Porsche Motorsport. With fellow Southern California native and Porsche Works driver Patrick Long being the other American, De Phillippi is in great company and very eager to hit the gas and get started with his next step up the motorsport ladder. "This newly established partnership with Roboscan for my 2013 race season in Europe is truly incredible. They possess a lot of the same characteristics and ambitions that I myself have. Roboscan is a young company, with an incredible product and they are looking to establish themselves globally. I am extremely proud and honored to have them on-board and be a part of their growth. Through our racing program, I am looking forward to helping them establish their global marketing campaign during my first year in the Porsche Junior Program. I cannot thank everyone at Roboscan enough for their support and I am looking forward to partnering with them for the long term."
Porsche has intensively supported talented youngsters in motorsport since 1997. Today's Porsche factory pilots Patrick Long, Timo Bernhard, Marc Lieb and Marco Holzer were trained as Porsche juniors and have gone on to become some of the most successful sports car drivers in the world. Porsche head of racing, Hartmut Kristen emphasized this by saying, "Both Alex Riberas Bou and Connor De Phillippi have the talent necessary to be very successful in the sports car scene. Our current Porsche works drivers have shown that the Carrera Cup is an excellent platform for a professional international career."
Additional information on the partnership can be obtained by contacting Roboscan Inc. at partnership(at)roboscan(dot)com. For media inquiries, contact Jason Bell at jason(at)roboscan(dot)com.
About Roboscan Internet Security:
Roboscan Internet Security was developed by engineers with a very simple mindset - "Fast. Light. Easy." Roboscan's dual engine optimization offers better detection than single-engine products, but uses less resource usage than other dual engine products on the market. Real-time emergency response, proactive detection and various security utilities not only detect the current malware, but also prevent possible threats by its rule based method.
Roboscan's core belief is that users should not have to compromise their productivity because of slow, resource-heavy security products. For this reason they developed Roboscan Internet Security to use minimal PC resources by utilizing unique "Smart Scan" technology. Their dedicated research and analysis team continue to focus on these efforts, ensuring that Roboscan's booting time, memory, and CPU usage will continue reducing with future updates. The net result is a highly developed security platform that provides users with seamless system integration and the all important, software updates to protect against a growing number of online threats.
For more information on Roboscan and their products, visit Roboscan Internet Security.
About Connor De Phillippi:
Following in similar footsteps to American Porsche Works driver Patrick Long, Connor De Phillippi started racing go-karts at the young age of 5 years old. By the time he was 14 years old, he had won 21 national titles, including the only person to ever win 4 SKUSA SuperNational titles.
In 2008, De Phillippi made the move from karting to open wheel racing, winning the Skip Barber West Coast Series championship and Rookie of the Year honors. De Phillippi then participated in the Skip Barber National Series Racing Shootout, beating out 50 other competitors and earning him a full ride in the Skip Barber National Championship for 2008 as part of the MAZDASPEED Driver Development Program. In 2009, he won the Skip Barber National Championship, winning a record 7 of the 14 races. By winning the Skip Barber National Championship, De Phillippi won a full-ride for the 2010 Star Mazda Championship Series as part of the Mazda Road to Indy Program. That same year, after winning the Team USA Scholarship, he became the youngest and only second American to ever win the Walter Hayes Trophy in England. In 2010, he took the next step up the Mazda Road to Indy ladder and ended the Star Mazda Series in third place overall, winning Rookie of the Year honors. 2011, he secured runner-up and finished third in the 2012 championship.
For more information on Connor De Phillippi, including links to "Follow" him on Twitter or "Like" his Facebook page, visit his personal website at http://www.cdpracing.com.