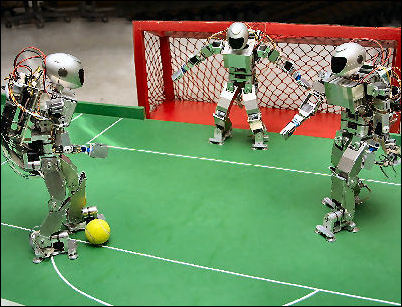 The combat robots keep getting better each year
San Francisco, CA (PRWEB) June 11, 2007
Robots from around the world are coming to San Francisco to compete in the fourth annual International RoboGames. Over 800 robots will be competing in 61 different events - combat, soccer, sumo, basketball, fire-fighting, android races, android acrobatics, art robots, iron-man exoskeleton weight lifting, robot hockey, and even android kung-fu. Teams from 30 countries and every continent will be attending.
Facts at a glance:
Date: Friday-Sunday, June 15-17, 2007
Time: Noon - 10 PM.
Where: Fort Mason Festival Pavilion, San Francisco California
Cost: $20/adult, $15/kids 17-7, 6 and under free
Web: http://www.RoboGames.net
Images: Print ready photos at http://robogames.net/pix
Engineers from around the world return to San Francisco for the "world's largest robot competition" (as listed in the Guinness book of world records.) This year's event will host 83 different competitions, including 18 different events just for walking humanoids. Large scale combat robots will also be a highlight of the show, with bots topping off at 340 pounds. They fight behind bulletproof glass and thrill the crowd year after year, with crashes, flame-throwers, and wanton destruction.
"The combat robots keep getting better each year," said RoboGames founder David Calkins. "Just because they're not on TV, doesn't mean the sports dead. We've got teams flying in from around the US and Canada, Brazil, Mexico, the UK, Netherlands, Australia, and even Iran just to compete in the robot combat."
But there's much more than just combat. Team Brazil, the darlings of last year's event, will be returning with over 10 robots in various categories. But teams from China, Japan, and Korea will all be fighting hard. Expect to be awed as Gold-medal android winner "Plen" returns from Japan - this year able to roller skate and skateboard.
Incredible Humanoid Challenges
Androids from around the world will compete in 13 different events including soccer, sumo wrestling, kung-fu, and a marathon. In android soccer, the United States will be defending their gold medal after last year's win over the UK, but Brazil is expected to make a stronger effort than their bronze medal win last year. HiTec robots will cartwheel up and down the field as teams try to score. World champion Korea will be tough to beat in the other events, although it's anybody's guess who will win in the first ever attempt at android basketball.
The 2007 International RoboGames is also host to the 12th annual Federation of International Robot-soccer Association (FIRA) 12th annual Robot World Cup. FIRA is the world's oldest robot soccer organization, and teams from at lest 20 countries are expected to participate in the robot soccer events alone! RoboGames is probably the only event that ever made it into both an ESPN top ten ("SportsCenter Top Ten") list and a Wired Magazine top ten ("Ten Best North American Geek Fests.")
"We're really thrilled to be host to FIRA World Cup," said Calkins. "The FIRA teams are the best researchers in the world, coming to the US from over 20 countries. The improvements these guys make in their robots each year always amazes me, and I see great robots all the time. It's great to see soccer alongside fighting robots and all the other events - everyone is really learning from each others. These guys are not only great to watch, but they're great to just hang out with after the games."
Friday is the "Judd-Feldstein-Bruce Free Kids Day" (no addmission charge for kids 17 and under), and we expect kids from all over the bay area to come and see the future! Robot Combat and Robot Soccer will begin in full force at noon. At 6pm, we close the venue to the general public, for the VIP and builder party, sponsored by O'Reilly media, Servo Magazine, and Lagunitas Brewery.
All events continue through Saturday and Sunday. There are 61 active events this year, and all competitions are ongoing, guaranteeing non-stop robot action! The enclosed packet describes the various events you can expect. Saturday will include a special appearance by MythBusters Jamie Hyneman and Grant Imahara (both are robot combat veterans.)
Press Preview Days:
Reporters, photographers and videographers should all plan on showing up early to catch special previews of the action and interview contestants (and maybe their robots!). Thursday the venue will be open for the press, with a few of the robots on display.
Thursday, June 14 - Open for press preview.
Many robots will be on display for doing trials, including walking humanoids. Not all robots will be present.
Friday, June 15 - Soccer and Combat begin.
Judd-Feldstein "Kids Free Day", and opening night VIP/Press/Contestant Party.
Saturday, June 16 - All Medal Events
Sunday, June 17 - Remaining Medal Events, including lightweight, middleweight, heavyweight and superheavyweight combat finals.
Sponsors & Donors Needed:
Several of the teams are University-based and still seeking funding to be able to make it to the games. Teams from Japan, Korea, Canada, Germany, Brazil, Israel, Iran, and other nations Would like the opportunity to compete, but they need sponsorship help. RoboGames and the RSA are still seeking sponsors to help pay their flights, robot shipping, and housing while in San Francisco. Sponsorship opportunities abound and the level of press form last year's event (CNN, USA Today, Wired, Radio Toyota, all four networks, etc.) guarantee a high level of visibility of sponsor logos.
Robotics is becoming the new lifestyle sport of the thinking age. The Renaissance had classical music, we have hi-powered DC motors. RoboGames is the channel through which cutting-edge gearhead technology becomes validated and showcased to widely diverse audience, an audience with both a voice and a higher than average disposable income. The games are still looking for sponsors - companies or groups should contact sponsors@RoboGames.net if they would like to become an event sponsor and garner publicity, gratitude, and a tax-deductible donation that helps more people gain access to robotics.
Proceeds from the event will help support robotics education.
About RoboGames:
RoboGames was founded as the ROBOlympics in 2004. Founder David Calkins, who worked with all types of robot competitions, realized the need for cross-pollination between events, as too many robot builders over-specialized within their own field. By bringing builders from combat robotics (mechanical engineering), together with soccer robotics (computer programming), sumo robotics (sensors), androids (motion control), and art robots (aesthetics), robot builders could exchange ideas and learn more.
The second goal of RoboGames was to offer recognition to engineers from around the world in varying disciplines with consistent rule-sets and low-cost or free contestant fees. RoboGames never charges kids or primary/secondary schools an entry fee. By offering gold, silver, and bronze medals, and inviting the best robot builders from countries other than just the US, RoboGames gives everyone a chance to excel and compete on a level playing field.
###