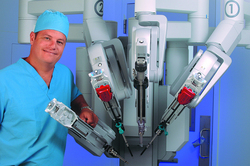 Houston, Texas (PRWEB) October 12, 2008
Dr. Ornstein (http://www.DavidOrnsteinmd.com) joined the Vanguard Urologic Institute (http://www.vanguardurology.com) as Director of Urologic Oncology and Medical Director of the Vanguard Urologic Research Foundation (http://www.vanguardurology.com/research). He will also be Associate Professor within the Center for Clinical and Translational Sciences, University of Texas Health Sciences Center, Houston.
The Vanguard Urologic Institute was founded with the singular goal to reduce pain and suffering from urologic diseases. The Institute is located in the new Memorial Hermann Medical Plaza within the Texas Medical Center of Houston. The newly formed Vanguard Urologic Institute is a state-of-the-art clinical and research facility. Vanguard patients benefit from the extensive expertise of Vanguard Urologists and the availability of the latest technologies to facilitate urologic care. The clinical operations of the institute utilize an electronic medical record system that maximizes physician efficiency and facilitate accurate record keeping and clear communications. This allows Vanguard doctors and nurses to spend more of their time taking care of patients and less time managing paper work. Vanguard patients will have on-site access to state-of-the-art equipment for video-urodynamics, flexible cystoscopy and power doppler ultrasonography for prostate and kidney imaging. The Vanguard histopathology laboratory assures accurate and timely interpretation of prostate biopsies and other urine and blood tests. Through a collaborative arrangement, Vanguard patients will have access to the most advanced radiation therapy technology (IMRT) for the treatment of localized prostate cancer.
The Vanguard Urologic Institute (http://www.vanguardurology.com) is affiliated with Memorial Hermann-Texas Medical Center, the flagship hospital for the Memorial Hermann Hospital System. Among it's many advanced medical technologies Memorial Hermann, Texas Medical Center has 4 DaVinci Robotic Surgical Systems and houses one of the largest and most active robotic surgical training centers in Houston.
Dr. Ornstein (http://www.DavidOrnsteinmd.com) was awarded the Doctor of Medicine degree at Washington University in St. Louis, Missouri, in 1992. He completed an internship in general surgery at St. Luke's/Roosevelt Hospital Center, Columbia University and a residency in urology at Washington University. In June 2000, he completed a fellowship in the Urologic Oncology Branch of the National Cancer Institute (NCI), where he was an NCI/American Foundation of Urologic Disease Scholar.
Prior to joining the medical staff at Memorial Hermann-Texas Medical Center and the faculty of the University of Texas Health Science Center-Houston, Dr. Ornstein was Assistant Professor of Urology and Chief of the Division of Urologic Oncology at the University of California, Irvine. He held a concurrent appointment as medical director of Robotic Surgery and Urologic Oncology at the Todd Cancer Institute, Long Beach Memorial Medical Center in Long Beach, California.
The 2007 recipient of the Young Investigator Award from the Society of Urologic Oncology, Dr. Ornstein was named to "Best Doctors in America" in 2006 and 2007. He holds memberships in the American Urological Association, the Society of Urologic Oncology, the Society of Basic Urologic Research and the American Association of Cancer Research. He has served on the editorial board of Investigative Urology, Clinical Proteomics, Human Genomics and Proteomics, and is a reviewer for multiple other medical and scientific journals. He has been principal investigator on several National Institutes of Health and Department-of-Defense funded research grants. His current clinical and translational research interests include, optimizing robotic surgical procedures for urologic cancers, prostate cancer biology and biomarker development. He was been awarded several career development awards including The Young Investigator Award from the Prostate Cancer Foundation, the Edwin Beer award from the New York Academy of Medicine and an award from the California Cancer Coordinating Committee.
Dr. Ornstein (http://www.DavidOrnsteinmd.com), a pioneer in robotic urologic oncology, has a very active clinical practice with a primary focus on urologic oncology and prostate cancer detection. Having performed more than 400 robotic surgical procedures for prostate cancer, bladder cancer and kidney cancer, Dr. Ornstein is one of the most experienced robotic surgeons in the Houston metropolitan area. He has published extensively and regularly lectures nationally and internationally on robotic surgery as well as prostate, bladder and kidney cancer.
To contact Dr. Ornstein call (713) 366-7800 or see http://www.DavidOrnsteinmd.com or http://www.vanguardurology.com.
###