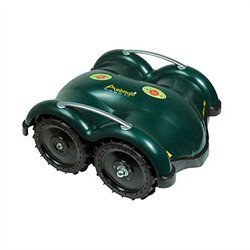 Kyodo America (KA) is very excited to be working with RobotShop in bringing the LawnBott to consumers in the US and Canada
Boisbriand, Quebec (PRWEB) April 17, 2009
RobotShop, the World's Leading Source for Domestic and Professional Robot Technology, is proud to offer the latest technology in domestic robot lawn mowers. The perimeter-free Lawnbott Spyder defies industry standards with new cost-effective technology.
RobotShop partners with Kyodo America (KA) to offer the Spyder LB1200 mower, the latest innovation in the domestic robot lawn mower industry. The Spyder robot mower provides quality lawn mowing performance and merges simplicity with safety.
"We at RobotShop are energized about our relationship with KA, who we find are very proficient and dedicated. Their products are excellent and very reliable. The Spyder LB1200 mower is a great innovation merging the refinement and paybacks of robotics with ease of use. Just settle the mower on its four wheels and hit the ON button!" claimed Mario Tremblay, President of RobotShop.
The Spyder LB1200 lawn mower does not require a perimeter wire like other robot mower products. The mower relies on natural obstacles found on the property and patented sensor technology to manage its mowing action. The mowers sleek design and engineering makes it very easy to operate and store.
"Kyodo America (KA) is very excited to be working with RobotShop in bringing the LawnBott to consumers in the US and Canada," says John Tarvin, Marketing Manager for Kyodo America. "RobotShop has an outstanding track record in offering consumers great robotic products both for pleasure and home maintenance. The LawnBott robotic mowers build upon this by taking a huge burden off the homeowners' shoulders…cutting the grass."
RobotShop customers who purchase any Lawnbott robot lawn mower before May 1st will be entered in a contest to win the value of a Spyder LB1200 perimeter-free robot lawn mower.
"The LB1200 Spyder is the world's first robotic mower that does not need a perimeter wire. Instead, using patented sensors, it actually differentiates grass to be cut from other areas. The LB1200 Spyder brings a whole new dimension to robotic lawn care and at its lower price, opens up robotic mowing to millions of new consumers," shared John Tarvin, Marketing Manager for Kyodo America.
About RobotShop Distribution Inc. (RobotShop.com):
RobotShop provides domestic robots, professional robots, development platforms and robot kits and specialized robotic parts. RobotShop is undertaking a broad strategic program aimed at promoting the evolution of robotic processes within our society, leading to the creation of a whole new world of possibilities: Robotics at your service!TM
For more information on the Lawnbott Spyder LB1200 lawn mower, visit robotshop.com
About Kyodo America (KA)
It conducts businesses that include manufacturer and assembly of garden equipment, plastic molding, and trading.
###