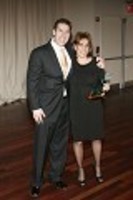 Brooklyn, NY (PRWEB) March 20, 2008 -
Board member Rocco Basile, received the award on Thursday March 13, 2008 at the fourth annual Children of the City Night of Champions Benefit Gala for his support in raising funds for the Brooklyn, New York-based charity. The event, held at New York's Tribeca rooftop restaurant was hosted by the New Jersey Nets, Richard Jefferson, and with actor Steve Schirripa, who will serve as Master of Ceremonies. Basile helped establish the after-school program by securing resources and funding for the program.
New York Giants Super Bowl hero David Tyree was also honored. He and Basile each received the program's highest honor, the Children Champion Award. He has been a supporter of the Children of the City for three years, long before his recent Bowl fame.
"The real honor should go to all my friends and colleagues who contribute to this wonderful organization. I thank you all and truly appreciate your help in supporting my cause and giving the resources to make this dream come true. These funds made a big difference in our Create Success program. The generosity of all of my friends and colleagues during the holidays for our toy drive brought so much joy," said Rocco Basile.
The Create Success after school program is also a summer program focusing on each student's academic success. There is intense tutoring and daily personal help from volunteers for the students' homework. There have been dramatic increases in each participating student's reading and math levels. Plus it gives them healthy study habits and improved communications and better peer relationships.
For more than two decades since 1981, Children of the City has successfully served the underprivileged children and families in the inner-city communities of Southwest Brooklyn, helping them overcome welfare and poverty and become homeowners, businesspeople, and more. Many families have turned away from lifestyles of violence and gang activity and have overcome substance abuse. They are now pouring time back into the community by volunteering.
Children of the City's team includes many certified professionals, along with 50 highly committed and trained volunteers who visit about one thousand children each month. During the year the organization maintains current information on over 500 families in the community, giving them encouragement and resources, and hoping to give them a better tomorrow.
Basile has been spending more time doing charity work over the last five years because he believes that educating our youth is the foundation of prosperity and being a role model gives them a structure to follow for a more fulfilling life.
About Rocco Basile
Rocco Basile graduated from Brooklyn, New York-based Xaverian High School, then received a degree in Accounting from New York University (1990) and attended graduate courses at St. John's University for Finance. He currently works in his family's business, The Basile Builders Group, and is married with two daughters.
For more information, visit his website at http://www.roccobasile.org.
###