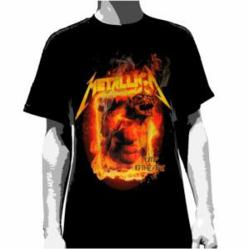 The 9% brings the once-$32.95 tees down to a nice round $30. Perfect.
Melbourne, Australia (PRWEB) March 08, 2013
The popular online rock merch store Planet 13 is celebrating 9 years of providing officially licensed music merch by reducing the price of their premium band shirts by 9%. Life-long musician and owner of Planet 13 Shawn Scott decided on the permanent price-cut when discussing how to celebrate the store's near-decade of trade. "We thought the play on the number 9 would be fun. Nine years and a 9% decrease on the price of our premium $32.95 tees, which are all now $30."
With online businesses being created as well as closed every moment of the day, there seems little commotion over those who've maintained their presence over prolonged periods of time. Planet 13 is one of those online businesses who've managed to persevere through thick and thin, and are now celebrating their 9th year in eCommerce.
"We launched Planet13.com.au back in 2004 and we've seen a lot of turmoil in both the real world and online," says Shawn, "but nearly a decade on, we're going strong and want to celebrate." The band merchandise store is well known for supporting the music scene by supplying only official items, and "this is one of the reasons our customers keep coming back, because ordering through Planet 13 ensures they're truly supporting the bands they're fans of."
Shawn mentions that during discussions about how to celebrate Planet 13's ninth year of eCommerce, he and his team "came up with a heap of different specials and promotions, but none of them seemed quite good enough." It was during this meeting with his supporting staff that it dawned on the director to "simply reduce the premium band shirt prices by 9%."
"It worked out really well," says Shawn "because the 9% brings the once-$32.95 tees down to a nice round $30. Perfect." He continues by saying the prices have "already been quietly reduced on the site, and we're planning on promoting our 9 year anniversary publicly very soon."
In today's uncertain global economy, it's a great achievement for any business to celebrate a near-decade of trade. So when Planet 13 have commenced their ninth year of trade in 2013, Shawn and his team searched out the perfect way to celebrate, ensuring their customers would feel the full benefit, by permanently reducing their premium band shirts to an even $30.
To find out more about Planet 13's range of band shirts, including a toddler, women's and plus-sizes, visit http://www.planet13.com.au
A bit about Planet 13™
Planet 13™ was conceived and created in 2004 by Shawn Scott, front man of the once-popular Melbourne based glam/punk band Voodoo Lovecats. His online merch store Planet 13 stocks an extensive range of the best quality and fully licensed entertainment accessories, band shirts and music merchandise, all while providing the best customer service around.