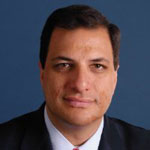 Most firms think they have a viable strategy, yet many do not. The need for an effective growth plan is particularly important given the forecasted changes in today's economy.
Austin, TX (PRWEB) May 03, 2013
International speaker and business consultant Daniel Marcos, co-founder and CEO of Gazelles Growth Institute, will present the Gazelles' growth concepts from the best-selling business book Mastering the Rockefeller Habits: What You Must do to Increase the Value of Your Growth Firm on May 14 at the Norris Conference Centers and Red Oak Ballroom in Austin, Texas.
Particularly timely given economic transition and forecasted recovery, the workshop will concentrate on the four critical decisions on which companies should focus when developing an effective growth strategy: people, strategy, execution and cash. These fundamental growth concepts are based on the same habits that John D. Rockefeller employed, as chronicled by Gazelles founder Verne Harnish in his book Mastering the Rockefeller Habits.
"Most firms think they have a viable strategy, yet many do not. The need for an effective growth plan is particularly important given the forecasted changes in today's economy," Marcos says. "The objectives are straightforward: attracting and retaining top talent, tripling profitability and/or dramatically increasing the cash flow of a business, while establishing a durable and sustainable competitive edge. This workshop employs and imparts the necessary effective growth concepts to CEOs and their leadership teams for attainment of these objectives."
For more information about the Austin, Texas workshop in May, as well as information on Mastering the Rockefeller Habits, visit GICoaches.com or contact Daniel Marcos directly at daniel(at)inflection(dot)com(dot)mx or 1-512-371-6842.
-30-
HOST COACH BIO: Selected as one of the "30 in their 30´s" by Expansion Magazine (when he was just 29!), Daniel Marcos is an entrepreneur, business coach and blogger with an outstanding record of success. He is the founder, coach and international speaker at Inflection, a management coaching company that helps executives and entrepreneurs achieve their goals and grow their companies faster. He co-founded Creditos123, LLC, a leading online lending exchange that serves the Hispanic community in the USA. Marcos created Finanzas Web, the first financial website focused on Mexican financial markets. Fondo.com, an angel fund specializing in internet related businesses, is also his brainchild. Earlier in his career, Daniel was a broker at Lloyd's of London and later served as Financial Attaché to the Consulate General of Mexico in Hong Kong. Currently, Daniel is the blogger of CapitalEmprendedor.com, sites dedicated to helping entrepreneurs grow their business. Daniel is a graduate of EO's premiere CEO program, the "Birthing of Giants," and its continuation, "Gathering of The Titans." He holds a B.S. in Industrial and Systems Engineering from I.T.E.S.M. (Monterrey Tech) and an M.B.A. (cum laude) from Babson College at Wellesley, MA.
PARTNER COACH BIO: Rob Lynch is the Founder & Managing Director of Burst Consulting and a Gazelles Certified International Coach. He believes every company should know how to get the Four Decisions right. He teaches how by helping his clients create a 1-Page Strategic Plan and implement the Rockefeller Habits. He also facilitates the annual/quarterly planning process, provides 1-on-1 coaching, and raises money and more. Prior to this, Rob led four companies, three of which were acquired. His experience as CEO included guiding company strategy, focus & execution, raising outside financing, hiring executive leadership teams, implementing multi-distribution sales strategies, managing geographic expansion outside the U.S. and guiding companies through acquisitions. 
Gazelles International is a worldwide, premiere coaching association composed of independent, professional business coaches who assist growth companies with the development of Gazelles growth tools, based on the book Mastering the Rockefeller Habits by founder Verne Harnish.
Visit GICoaches.com for event information, and register at: http://mrhworkshopaustin-es2005.eventbrite.com/?rank=1.