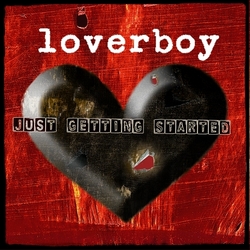 That's what we did in the old days, too, try out new songs and if people got excited they'd be on the album.
Vancouver, Canada (PRWEB) December 7, 2007
LOVERBOY returns full-force with the in-your-face new CD release JUST GETTING STARTED, the band's first studio album in more than a decade. JUST GETTING STARTED marks a creative new chapter in the long history of a legendary group that has always been dedicated to songs of honest emotion set to forceful, commanding instrumentation. The CD includes a special cut "Stranded," written and sung by Mike Reno as a special tribute to close friend and bass player Scott Smith who was declared "lost at sea" in 2000. Reno was also joined on background vocals by longtime band friend Phil Collen of Def Leppard.
From 1980 through 1987, the band released four multi-platinum best sellers as well as many gold albums. Their hit singles are now rock classics and include ''Turn Me Loose,'' ''The Kid Is Hot Tonite,'' ''Working For the Weekend,'' ''Hot Girls in Love,'' and the power ballads ''When It's Over'' and ''This Could Be The Night,'' as well as the "Top Gun" soundtrack smash ''Heaven In Your Eyes,'' plus many more that are still concert favorites today for LOVERBOY fans around the globe. LOVERBOY fans and industry professionals are constantly blown away at the 100 performance dates the band continues to headline in the US annually.
RockSTAR Music Corp., LOVERBOY'S label, completed an exclusive relationship with all 3,400 U.S. Wal-Mart stores. Wal-Mart is selling the hard copy CD at a retail price of $8.82. The DRM FREE CD is available for digital download at Walmart.com at a retail price of $7.88 and at other online retailers. A free bonus song "Alive" recorded at one of the band's recent concerts is also available digitally. RockSTAR Music created a special CD digital press kit featuring Mike Reno with classic LOVERBOY clips and new CD information for the Fans.
According to Mike Reno, lead singer of LOVERBOY ''JUST GETTING STARTED'' totally captures the spirit of where the band is today. The band is thrilled with the Industry and FAN response to the new CD. "We have had great reviews in the past ... but the five star reviews we are receiving at this stage of our career are incredible." See:
http://301url.com/WalMartLoverboyCD
http://301url.com/AllMusicGuide-Billboard
http://301url.com/BuzzineLoverboy
"I am traveling across North America proudly promoting this CD. In the last couple weeks, I have completed over 50 interviews just in New York and Los Angeles," says Mike Reno. The ongoing writers' strike understandably closed down the major TV talk shows which the band was going to perform on to millions of TV watchers. We support the Writers and wish them success. As a result, our Record Company, RockSTAR Music and the band increased our interview schedule and have started an internet "spread the word" campaign to create public awareness for our new CD. Our fan club's leaders have been great spreading the LOVERBOY message. We invite you to: http://www.rockstarmusiccorp.com/loverboy and http://www.myspace.com/loverboyrockstar for updated info. You can also listen to clips of each new song.
The album's title came from its lead track and the clear perspective that LOVERBOY is forging on ahead. "It does almost feels like we're just getting started again, after all we've been through together and in our personal lives as well," Mike says.
The group is performing the new material in concert, with magical results. "Fans are singing along with the songs and never heard them before," Mike says. "That's what we did in the old days, too, try out new songs and if people got excited they'd be on the album."
One particular moving experience came while performing ''The One That Got Away,'' a truly personal work that came out of Mike Reno's divorce. "I almost couldn't sing the song that night," Mike recalls. "There was a fan crying in audience and I was thinking she's never heard it before and she gets it. That almost made me cry. I got a chill and Paul Dean and I just looked at each other and knew this was right."
"My life with Loverboy is about playing live, it's all about playing live," Paul Dean says. "How I look at it in the end, the songs will develop and change onstage, and already have. Even 'Lovin' Every Minute' and 'Take Me To The Top,' after 27 years, are still evolving live."
A band of brothers who have always been in it for the long haul, LOVERBOY is reenergized more than ever with the release of JUST GETTING STARTED, looking forward to playing even more of the album in concert, reclaiming their place as one of rock's greatest groups. "We've always had the chemistry plus the history behind us as well. We know what we can do and want to do," Paul says. "My guitar sound and playing are a lot heavier now and Mike's tone and range -- it's just amazing. People are going to be surprised. This is Loverboy today."
"We would not have put an album out if we thought it was getting in the way of great hits we've done," Mike Reno says of JUST GETTING STARTED. "These new songs are respectful of our past and inspirational for our future."
Contact Info:
Michael Hektoen
RockSTAR Music Corp.
http://www.rockstarmusiccorp.com
mhektoen@rockstarmusiccorp.com
604-960-9880
###