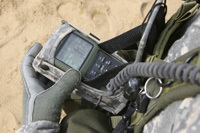 This contract ensures that we can continue to deliver best-value GPS receivers to the warfighter without a break in production
Cedar Rapids, IA (Vocus) March 18, 2009
Rockwell Collins has received a $450 million follow-on contract to provide Defense Advanced Global Positioning System Receivers (DAGR) to the U.S. Air Force GPS Wing. The contract calls for Rockwell Collins to provide these handheld GPS position and navigation receivers through 2016.
"This contract ensures that we can continue to deliver best-value GPS receivers to the warfighter without a break in production," said Bruce King, vice president and general manager of Surface Solutions for Rockwell Collins. "The DAGR's ruggedness and situational awareness capabilities are battled-tested and have been proven to save lives and increase mission effectiveness."
Rockwell Collins has delivered more than 290,000 DAGR units and more than 1.5 million accessories since the company was selected by the Air Force for full-rate production in 2003. This latest award brings the total value of the DAGR contracts to $1.15 billion.
Primarily used by the U.S. Army, the DAGR is considered the handheld GPS receiver standard for position, navigation and situational awareness used to address both the soldier and other system installation needs. Mission planning enhancements have been added to the DAGR, increasing soldier productivity and increasing overall mission effectiveness.
The receiver provides precise timing to synchronize tactical radios, missile platforms and other situation awareness navigation systems for the digital battlespace and includes a Graphical User Interface (GUI) that greatly provides ease of use while enhancing the soldier's effectiveness and safety.
The DAGR design incorporates anti-jam improvements and denied GPS capabilities for worldwide enhanced battlefield protection and is the first U.S. handheld GPS receiver program to receive the next-generation security device, the Selective Availability Anti-Spoofing Module.
To view a photo of the Defense Advanced GPS Receiver, please visit:
http://www.vocus.com/images/pr/rockwellcollins_New_DAGR_Shot_200.jpg
Rockwell Collins (NYSE: COL) is a pioneer in the development and deployment of innovative navigation, communication and aviation electronic solutions for both commercial and government applications. Our expertise in navigation, flight deck avionics, cabin electronics, mission communications, information management and simulation and training is delivered by 20,000 employees, and a global service and support network that crosses 27 countries. To find out more, please visit http://www.rockwellcollins.com.
This press release contains statements (including certain projections associated with Rockwell Collins providing Defense Advanced Global Positioning System Receivers to the U.S. Air Force GPS Wing that are forward-looking statements as defined in the Private Securities Litigation Reform Act of 1995. Actual results may differ materially from those projected as a result of certain risks and uncertainties, including, but not limited to U.S. government spending and budgetary policies; potential cancellation or amendments of awards or orders by the U.S. Air Force; challenges in the design, development and production of advanced technologies; and competitive product and pricing pressures; as well as other risks and uncertainties, including but not limited to those detailed from time to time in the Rockwell Collins Securities and Exchange Commission filings, including without limitation the Rockwell Collins Annual Report on Form 10-K for the year ended September 30, 2008 and its quarterly reports on Form 10-Q for the quarters ended December 31, 2009, March 31, 2009 and June 30, 2009. These forward-looking statements are made only as of the date hereof.
# # #