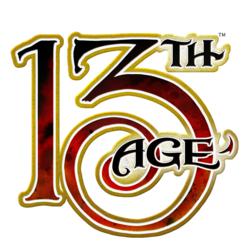 Our goal with 13th Age is to recapture the free-wheeling style of old-school gaming by creating a game with more soul and fewer technical details.
Seattle, WA (PRWEB) April 10, 2012
This past weekend, Jonathan Tweet – lead designer of Dungeons & Dragons® third edition – spoke publicly for the first time about 13th Age, the new fantasy roleplaying game that he is designing with Rob Heinsoo, the lead designer of the fourth edition of D&D®.
"Our goal with 13th Age is to recapture the free-wheeling style of old-school gaming by creating a game with more soul and fewer technical details," said Tweet, who spoke alongside other game industry veterans on panels at Norwescon 35, a fantasy, science fiction and gaming convention in Seattle.
Tweet continued, "13th Age makes the play group's campaign the center of attention, with a toolkit of rules that you can pick and choose from based on the kind of game you want to play. The mechanics of 13th Age draw from classic games as well as newer, story-based games."
Players of 13th Age take the roles of fortune-seeking adventurers in a world where powerful individuals called Icons pursue goals that may preserve an ancient empire that teeters on the brink of chaos, or destroy it. When players create their characters, they decide which Icons their adventurers ally with, and which ones they oppose. These relationships, along with a personal history and a unique trait chosen during character creation, help define an adventurer's place in the world of 13th Age and lay the groundwork for epic stories that emerge through play.
An early draft of 13th Age is being playtested by more than 200 gaming groups around the world. The game will be published in August 2012 by Pelgrane Press under an Open Game License that will allow other designers to take advantage of its contents to create their own products.
Although they can't yet share details about 13th Age with others, playtesters have been enthusiastic about it on online message forums. Playtester Adam Dray said, "Tonight, the one player who comes to the game for mostly social reasons said after a test combat, 'That was fun!' and engaged with her character in a deeper way than she ever has."
Another playester, Eric Provost, said simply, "I want to play this until I can't play anymore."
Rob Heinsoo says that the idea for the game grew out of his and Tweet's experiences playing together in the same Seattle gaming group. "I realized that together, Jonathan and I could make the version of the classic dungeon-crawling fantasy adventure game that we both really wanted to play now. Also, if we found the right publisher, we could entertain other people in the process. We're very fortunate to be working with Pelgrane Press, which has a history of publishing high-concept, artistically daring games. They're giving us complete freedom as designers to make the game that we've envisioned."
Simon Rogers of Pelgrane Press says, "I've been playing roleplaying games now for more than 30 years, and publishing them for nearly a dozen, so it's an honor and pleasure to be working with these two games design powerhouses and publishing the results of their collaboration."
About Rob Heinsoo
Rob Heinsoo has created dozens of role-playing games, card games, miniatures games and board games. He led the design of the fourth edition of Dungeons & Dragons® and wrote or led the design of many 4e sourcebooks. Rob has just released the critically acclaimed card game Epic Spell Wars of the Battle Wizards: Duel at Mt. Skullzfyre. Other recent game designs include THREE-DRAGON ANTE, THREE-DRAGON ANTE: Emperor's Gambit, Inn-Fighting, Dreamblade, FORGOTTEN REALMS® Campaign Setting, and the first nine sets of D&D Miniatures®. Games he worked on in the 90's that have aged well include Shadowfist, Feng Shui, and King of Dragon Pass.
About Jonathan Tweet
Jonathan Tweet has been creating games professionally for 25 years. He created or co-created the roleplaying games Ars Magica (1987), Over the Edge (1992), and Everway (1995). He started writing for Dungeons & Dragons in 1992, and in 2000 he became the lead designer of the game's third edition. In addition to roleplaying games, Jonathan has created and contributed to card games, miniatures games, computer games, and fiction. His games have won three Origins Awards, and he is in the Origins Award Hall of Fame.
About Pelgrane Press
Pelgrane Press publishes award-winning tabletop roleplaying games, including Trail of Cthulhu and Night's Black Agents by Kenneth Hite, The Dying Earth and Ashen Stars by Robin D. Laws. Pelgrane Press is also the home of the webzine Page XX, the Stone Skin Press fiction imprint, The Birds comic and music for RPGs by James Semple and fellow composers.
DUNGEONS & DRAGONS®, D&D®, THREE-DRAGON ANTE, THREE-DRAGON ANTE: Emperor's Gambit, Inn-Fighting, Dreamblade, FORGOTTEN REALMS Campaign Setting, and D&D Miniatures are registered trademarks of Wizards of the Coast LLC in the United States and other countries and are used without permission.