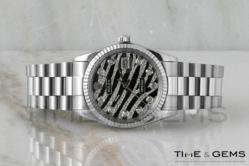 Los Angeles, California (PRWEB) April 26, 2013
Owning a Rolex watch is like owning a piece of history. Timeless elegance, quality settings and luxurious features are amongst some of the reasons why Rolex is, and will continue to remain at, the top of its class.
As one of the most trusted online retailers of luxury timepieces, specifically Rolex watches, Time and Gems (http://www.timeandgems.com) has been serving this luxury-laden market for over three decades. Not only do customers walk away with a timeless masterpiece, Time and Gems also ensures that an authenticity and appraisal certificate and comprehensive two-year warranty is included.
Whether the buyer is unsure about what to look out for, or is someone who is all too familiar with owning and caring for a Rolex watch, here are some things to keep in mind when shopping for a used Rolex watch:
1. The History of the watch
As with buying a car or a house, the buyer needs to ensure that he is given a summarized history of its previous owner, or at the very least a detailed list on the internal and external conditions of the watch. The main thing one needs to assess is that all the parts in the Rolex are authentic. The buyer can never be too sure especially if he has limited experience in buying luxury watches, hence it is best to make sure that the Rolex watch is purchased from a reputable retailer.
2. The Decision making Process
The Buyer should always ensure that their information is backed by research before any major purchase such as a luxury watch. Learn about the various models of Rolex watches and compare them to what is expected from a watch on a daily basis. If the consumer spends plenty of time outdoors sailing, scuba diving or hiking, they may want to look into the Rolex range of Sports Models such as Rolex submariner. However if the consumer is indoors most of the time, consider a Rolex watch from the Presidents or Datejusts category. Additionally, read reviews, manage the budget, and study pictures and videos before committing to buying a Rolex watch.
3. Affordable Pre-Owned Watches
Most people shy away from luxury products because they are under the assumption that they are not able to afford it. However, some companies offer affordable prices on pre-owned luxury watches, with no-risk returns. With a no-risk three-day return and 10-day exchange policy, anything is possible when it comes to buying a Rolex with Time and Gems.
Time and Gems offers wide variety of Rolex watches with wholesale prices during their Annual spring sale. Not only are there excellent deals on men's and women's Rolex Presidents, Datejusts and Sports Models, the buyer can also speak to a timepiece professional about other ranges and products within the extensive and time-honored Rolex brand.
One of the Rolex watches that is on sale for the annual spring sale at Time and Gems is the Men's Rolex Stainless Steel Zebra Diamond Dial Fluted Bezel President Band Datejust Item # 1514
Original listed price: $4,352
Spring Sale Price $4,000
(Bank Wire Price : $3,600)
This leave the buyer with the total Savings of $752
For more information on the latest Rolex watches and other luxury timepieces, contact Time and Gems' professional retailers through their website http://www.timeandgems.com or call them at 1-888-658-5595