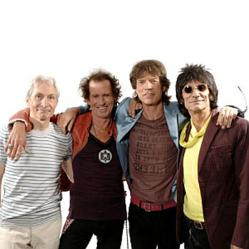 Fans love owning a piece of Rolling Stones memorabilia, so their merchandise makes a great gift for the holiday season
Melbourne, Victoria (PRWEB) December 03, 2012
On 26 November 2012, The Rolling Stone magazine announced the launch of the 50th anniversary Rolling Stones tour. Playing in London's O2 Arena, the aging rockers still packed out the venue for their enormous fan base. As the band grows older, their fans are becoming sensitive to the fact this tour could be their last. "The Rolling Stones members are beyond retirement age for most people," remarks musician and owner of band merch store Planet 13, Shawn Scott, "and fans realize they may not be around much longer, so when the announcement came out earlier this week, we were hit with a Rolling Stones merchandise buying frenzy like never before."
This past Monday, the Rolling Stone magazine reported on the Rolling Stones' 50th anniversary tour commencement. They remarked it was like a massive birthday bash. The band has been around long enough to accumulate one of the biggest fan bases around the globe.
"There aren't many music groups still strutting their stuff after 50 years," comments Shawn Scott, the frontman of a once-popular punk group Voodoo Lovecats, and owner of the online band merch store Planet 13, "So the Rolling Stones have fans in every generation. From retirees to school kids."
Shawn goes on to mention that their radio-friendly rock music, combined with their famous "Tongue" logo, has helped their longevity. "Everyone knows at least a couple of theirs songs, like 'Start me up' and '(I can't get no) Satisfaction'. And the same goes for their globally recognized 'Tongue' logo. Great music with great branding has definitely helped them kick on for so many years."
After the band's tour was announced, a new wave of fan interest hit the band merch store Planet 13. "It was literally the day after their London gig when our Rolling Stones merch sales spiked," continues Shawn, "I think when the fans saw these living legends perform, it made them feel like they were back in the 60s, 70s, 80s, or whatever era they have fond memories of."
Shawn points out that the fan nostalgia created by the tour announcement, combined with the upcoming Christmas holidays, is the most likely cause of the sales spike. "Fans love owning a piece of Rolling Stones memorabilia, so their merchandise makes a great gift for the holiday season."
Shawn goes on to say that Planet 13 has also seen Rolling Stones gifts being purchased for different generations in the same family, just this week "A father got a Rolling Stones toddler tee for his son, and then a mug for his father, while the grandfather purchased a keychain and t-shirt for the father," exclaims Shawn, "We all thought it was really cool to see Rolling Stones fans span three generations in one family."
A bit about Planet 13™
Planet 13™ was conceived and created in 2004 by Shawn Scott, front man of the once-popular Melbourne based glam/punk band Voodoo Lovecats. He prides his online merch store Planet 13 as featuring an extensive range of fully licensed entertainment items, band shirts and merchandise - all while providing the best customer service around.