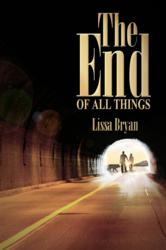 Hope, love, and the strength of the human spirit are the backbone of this surprisingly uplifting offering from Lissa Bryan.
Columbus, Ohio (PRWEB) January 22, 2013
There's no question that Americans have an obsession with apocalyptic tales. From Stephen King's The Stand to recent television phenomena like Doomsday Preppers, the end of the world has us glued to the screen. But why is this? Is it our natural curiosity of the unknown? Lissa Bryan has her own theory to explain the obsession. "Post-apocalyptic stories have an enduring popularity because in them we see human nature stripped down to the very bone. We see the characters at their most vulnerable point—when they have nothing but their inner strengths to keep them going."
The End of All Things is the second novel for Lissa Bryan. Her first novel, Ghostwriter, also explored the human condition and finding love in an unlikely place. When asked how she became inspired, Bryan shared, "Stephen King once said that a story starts for him with one question: What if? It's much the same for me. What if the worst possible thing happened? What would people do in a situation where they're reduced to a struggle for basic survival, when the comforts and rules of society are gone? How would their ethics change to meet these new circumstances?"
The End of All Things is an exciting journey that begins with Carly. After a terrible virus ravages the planet, Carly—one of the few survivors—hides in her apartment in Juneau, trying to survive the best she can with occasional forays to gather food. She is discovered by Justin, an ex-soldier intent on making his way to Florida before winter. He convinces her to join him, and together they begin a journey through a nation laid to waste by the disaster. Challenges abound along the way, from the changing seasons to injury and shortage of supplies.
And other survivors.
Some are friendly, some are malicious, and some have minds destroyed by the virus. Justin and Carly can only depend on each other, and she finds her perceptions challenged by what it takes to live in this brutal new world.
This is the story of their journey to find a place to begin a new life and a home in each other.
Hope, love, and the strength of the human spirit are the backbone of this surprisingly uplifting offering from Lissa Bryan.
Website: Lissa Bryan can be found on The Writer's Coffee Shop, as well as her website.
The End of All Things is available for purchase in paperback and e-book January 24, 2013 on Amazon, iTunes, B&N.com, Kobo, and The Writer's Coffee Shop website.
About the Publisher:
The Writer's Coffee Shop Publishing (TWCS) House is an up-and-coming independent publisher based in New South Wales, Australia. They recently gained a great deal of attention when they published Fifty Shades of Grey, the international literary sensation released in June, 2011 and now represented by Random House.
Launched in October, 2010 with the vision of working alongside talented authors while providing quality e-books to the growing marketplace, TWCS publishes a wide range of fiction titles sure to have something for any literary appetite.
Website: http://ph.thewriterscoffeeshop.com/
The Writer's Coffee Shop