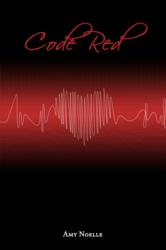 Amy Noelle's Code Red has everything you would expect from a romantic comedy; a hilarious cast of characters, a great love story, and brilliant writing. It's going to be a hit
Tampa, FL (PRWEB) April 09, 2013
Amy Noelle's romantic comedy Code Red has readers laughing out loud as they follow Nicole Magette, a woman who has vowed to never be hurt again by a man. Nicole lives a structured and satisfying life. Her work is easy, her friends are her family, and the only consistent men in her life are her two cats, Winchester and Huntington Peabody the Third. She doesn't date, and she hooks up only with the "safe ones"—men she has absolutely no risk of falling for. But if she finds herself in danger, she has her old failsafe in place—the Code Red.
In college, she and her four best friends came up with the system as a way to keep away the good-looking bastards who might worm their way past their carefully constructed walls. Seven years later, three of her friends have succumbed to their last Code Reds and are happily married. Now it's just Nicole and her closest friend, Jen, who are still on their own, and Nic is just fine with that.
That is, until Joshua Daniels is transferred to Nicole's office from New York and assigned to work with her on a special project. He's everything she's avoided and everything she claims she doesn't want, so why can't she get him out of her mind? He's persistent, dangerously handsome, and sexy as sin. In other words, he's her worst nightmare. She turns to her friends to help her resist Josh's considerable charms and the inescapable draw she feels every time she gets near him. Can the Code Red save her this time, or will Josh send her perfectly balanced life into chaos?
"Authors such as Sophie Kinsella have made the romantic comedy genre immensely popular," says Jenny Pedroza, Chief Marketing Officer of The Writer's Coffee Shop Publishing House. "Amy Noelle's Code Red has everything you would expect from a romantic comedy; a hilarious cast of characters, a great love story, and brilliant writing. It's going to be a hit!"
About the Author:
Amy Noelle is a thirty-something single woman with two cats, Lily and Logan. Though she contends that she is not a crazy cat lady, she freely admits to being a crazy football fan. You can find her glued to the couch every fall weekend, cheering on her Seminoles and Buccaneers.
After attending Florida State University for two years, she transferred to Northern Illinois University and graduated in 1997 with degrees in Journalism and Political Science.
She was born in the Azores Islands, Portugal, and lived as a military brat from the west coast to the east coast of the United States, though she's found her permanent home in Tampa, Florida, for the last decade.
Besides football and writing, her other loves are television, movies, the beach, thunderstorms, and her family and friends.
Connect with Amy Noelle:
Facebook:http://www.facebook.com/amy.noelle.58?ref=ts&fref=ts
Website: http://amynoellewriter.wordpress.com/
Twitter: @AmyNoelleWriter
About the Publisher:
The Writer's Coffee Shop Publishing House is an up-and-coming independent publisher based in New South Wales, Australia. They recently gained a great deal of attention with Fifty Shades of Grey, the international literary sensation they released in June 2011, which is now represented by Random House.
Launched in October 2010 with the vision of working alongside talented authors while providing quality e-books to the growing marketplace, TWCS publishes a wide range of fiction titles and is sure to have something for any appetite.
Connect with The Writer's Coffee Shop
Website: http://ph.thewriterscoffeeshop.com/
Facebook: http://www.facebook.com/pages/TWCS-Publishing-House/119328354791583
Twitter: @twcs_pubhouse