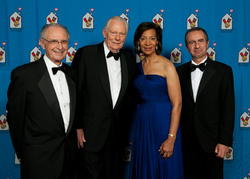 We are pleased to recognize these remarkable individuals for their on-going contributions to children
Oak Brook, IL (Vocus) October 25, 2010
In honor of individuals who have made outstanding contributions to improve the lives of children, Ronald McDonald House Charities (RMHC) hosted its 26th Annual Awards of Excellence celebration on Saturday, October 23, in Rosemont, Ill.
The annual event presented three prestigious awards and grants of $100,000 each to individuals selected from across the globe, including:

Herbert D. Kelleher is the founder of Southwest Airlines and has served as its CEO and Executive Chairman. Central to Mr. Kelleher's leadership has been his passionate commitment to Southwest's corporate citizenship. His relationship with Ronald McDonald House Charities began in 1983. Since then, the Charity has held a vital place in the hearts of Southwest Airlines and its employees. Last year, the company donated $1.7 million in airline tickets and cash to RMHC, and its employees volunteered more than 15,000 hours. Through these and other activities, Southwest Airline raises awareness of RMHC among its 95 million passengers a year. For his remarkable contributions and lifelong commitment to children and families, RMHC honored Herbert D. Kelleher with the Award of Excellence.
Dr. Frederick C. Battaglia, MD is a pioneer in the study of fetal physiology and one of the world's leading specialists and educators in perinatal medicine. He received his B.A. at Cornell University and his M.D. from the Yale School of Medicine, followed by an internship and residency at Johns Hopkins Hospital, and fellowships at Cambridge University, Yale, and the U.S. Public Health Service. Among his accomplishments, he led the development of the Pediatric Scientist Development Program, which has become one of the most successful physician-scientist training programs in the country. Dr. Battaglia is Professor Emeritus of the Departments of Pediatrics and Obstetrics and Gynecology at the University of Colorado. For his lifetime of outstanding achievements, RMHC honored Dr. Battaglia with the RMHC Medical Award of Excellence.
Guido Freda, a McDonald's owner/operator in Italy is an integral part of RMHC Italy. He began his work with the Charity in 2007 as director of Italy's first Ronald McDonald House in San Giovanni Rotondo. Under his presidency, RMHC Italy has opened two more Ronald McDonald Houses and one Ronald McDonald Family Room in Bologna. Freda has established excellent relationships with Italy's main public institutions and the Vatican State, which has enabled the RMHC Chapter to flourish and serve more families through the growth of RMHC core programs. Freda was the recipient of the Gerry Newman McTLC Award of Excellence for his legacy of philanthropy through his support to RMHC and the children in Italy.
"We are pleased to recognize these remarkable individuals for their on-going contributions to children," said Marty Coyne, president and CEO of Ronald McDonald House Charities. "Like RMHC, these award recipients are committed to being part of the solution in providing access to care for children so they can live fulfilling and productive lives."
In addition to honoring these outstanding individuals, the 2010 Awards of Excellence celebration included a dinner, lively entertainment by Grammy Award winning artist Richard Marx and special guest, American Music, People's Choice and Emmy Award winning, Olivia Newton-John. A live auction also took place throughout the evening, where attendees had the opportunity to bid on elite prizes including a 2011 Ford Explorer, tickets to the 2011 Super Bowl, American Idol finals travel packages, and numerous First-Class round-trip tickets to Hawaii, Europe and Latin America.
Past RMHC Awards of Excellence Recipients
Past RMHC Awards of Excellence Recipients have included: seven-time NBA All-Star, two-time Defensive Player of the Year and founder of Alonzo Mourning Charities, Alonzo Mourning (2009); entrepreneurs and philanthropists, Peter and Ginny Ueberroth (2008); actress, producer, social activist and national outreach director for St. Jude Children's Research Hospital, Marlo Thomas (2007); NCAA championship basketball coach and youth mentor, John Wooden (2006); the Association of Hole in the Wall Camps with actor Paul Newman accepting on their behalf (2005); actor, director and humanitarian, Danny Glover (2004); renowned pediatric surgeon, Dr. Benjamin Carson (2003); Her Majesty Queen Noor of Jordan (2002); tennis star Andrea Jaeger (2001); performer and humanitarian, Harry Belafonte (2000); wife of McDonald's Corporation founder Ray A. Kroc, the late Joan Kroc (1999); Betty Ford, former First Lady (1998); Retired U.S. Army General, Colin Powell (1997); acclaimed theologian, Henri J. M. Nouwen (1996); former U.S. Surgeon General, Dr. Antonia Novello (1995); Barbara Bush, former First Lady (1994); the late Fred Rogers (1993); Eunice Kennedy Shriver (1992); former U.S. President, Jimmy Carter (1991); and the late Jim Henson (1990), among others.
About Ronald McDonald House Charities
Ronald McDonald House Charities (RMHC), a non-profit, 501 (c) (3) corporation, creates, finds and supports programs that directly improve the health and well being of children. Through its global network of local Chapters in 52 countries and regions, its three core programs, the Ronald McDonald House®, Ronald McDonald Family Room® and Ronald McDonald Care Mobile®, and millions of dollars in grants to support children's programs worldwide, RMHC provides stability and resources to families so they can get and keep their children healthy and happy. All RMHC-supported programs provide a bridge to quality health care and give children and families the time they need together to heal faster and cope better. For more information, visit http://www.rmhc.org , follow us on Twitter (@RMHC) or like us on Facebook (Facebook.com/RMHC Global).
The following trademarks used herein are owned by McDonald's Corporation and its affiliates: Ronald McDonald House Charities, Ronald McDonald House Charities Logo, RMHC, Ronald McDonald House, Ronald McDonald Family Room, and Ronald McDonald Care Mobile.
© 2010 McDonald's
###