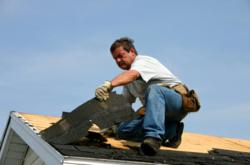 As roofing contractors in Fernandina Beach, FL, Roof Link Inc. is the only known provider exclusively installing Owens Corning shingles.
Fernandina Beach, Florida (PRWEB) September 16, 2012
Roofing contractors in North Florida are putting a lot of attention to the hurricane season now underway. One company has changed its roofing materials in an effort to provide the best quality products available for homeowner and business owner roof installations and repairs. Roof Link Inc. is now installing Owens Corning shingles on all asphalt based roofs. This change was brought on in part by the new Platinum Preferred Contractor certification awarded to Roof Link by Owens Corning. There are currently only one percent of roofing contractors in the U.S. that meet the criteria for certification.
As roofing contractors in Fernandina Beach, FL, Roof Link Inc. is the only known provider exclusively installing Owens Corning shingles. More information about Roof Link and roofing materials available can be found at this link http://www.roofingjacksonvilleflorida.com/roofing-contractors-fernandina-beach-fl-roof-link.
Communities along the Eastern coastline in Florida are usually the first to be hit by hurricane or tropical storm winds. Some of these homes were constructed in the 1940s through 1960s when outdated roofing supplies were used. Some homeowners that narrowly missed hurricane Isaac in 2012 are getting roof replacement estimates in advance of possible severe weather that is forecasted to hit the coastline.
Owens Corning, a manufacturer of top roofing materials, is one of the largest providers to roofing companies in the United States. Roof Link Inc. specializes in installing Owens Corning shingles that are used for protection by homeowners to prevent severe weather damage year around.
Insurance companies underwrite the policies that homeowners can select to help protect homes from severe weather. The average homeowner insurance policy in states like Florida is slightly different from a policy that is written in a non-severe weather threatening state. A recent survey put out by insurance regulators reported that only 20 percent of homeowners feel comfortable about the protections listed inside of their insurance policy.
A new service offered by Roof Link Inc. is insurance policy review. This service is designed to educate homeowners about what should be paid for and what might not be payable by insurance companies.
The new types of Owens Corning shingles that are offered by Roof Link are designed protect from wind, hail and rain infiltrations. Part of the problem with low quality shingles is that they can deteriorate quickly. This can increase the amount of wind damage or water damage that is usually one of the effects of weather damage.
Homeowners that would like to receive an online estimate for roof repair or replacement services can contact Roof Link directly at the following address:
Roof Link Inc.
2730 Isabella Blvd
Suite 50
Jacksonville Beach, FL 32250
(904) 900-2801
http://www.youtube.com/watch?v=pnqT1yqPXIc
About Roof Link Inc.
Serving North Florida homeowners with expert roofing materials and workmanship is what Roof Link Inc. has been doing for close to a decade. Roof Link's owner, Garrett Wadford, started his roofing company with the ultimate goal of being the top company in North Florida. Teams of experienced and dedicated contractors are part of the Roof Link family and provide every type of roof repair and replacement work that is available. Roof Link Inc. is an Owens Corning Platinum Preferred Contractor. This award is only awarded for complete excellence for roofing companies in the United States.