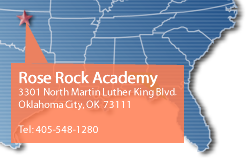 Oklahoma City, Oklahoma (PRWEB) March 07, 2013
Rose Rock Academy is a residential facility that specializes in the treatment of children diagnosed with autism. In January 2013 they designated a comfortable, home-style cottage complex for the care of males, ages eight through 14, who have exhibited maladaptive sexual behaviors.
Executive Director, Diane Bedell, sees this as an exciting and important step in customizing care for autistic children. "Recognizing that inappropriate sexual behavior is not typical of every autistic child, and addressing it through a specialized curriculum for lower intellectual functioning children sets Rose Rock apart from other institutions. These kids need a safe, supportive environment where their past experiences and risk factors can be explored. Our family treatment program encourages understanding and teaches personal control techniques."
This undertaking included a full remodel of the boy's cottage located in a comfortable wooded setting. Sleeping quarters, group zones, classrooms, and public areas are bright and welcoming.
The Children with Sexualized Behaviors Program includes a direct care staff with particular training in for this population. The therapists are skilled in working with autistic children who exhibit inappropriate sexual conduct. Comprehensive treatment protocol coordinates the care of psychiatrists, nurses, therapists, and other mental health professionals, all specially qualified to help children with this unique treatment issue.
One-on-one therapy and group sessions include topics like rules for sexual behavior, respecting personal space boundaries, good touch/bad touch, coping with trauma and maltreatment experiences, and relapse prevention.
Children are individually evaluated for admission to the program and assessed for appropriate length of stay. They must be medically stable, have an IQ of 50 to 75, be diagnosed with an intellectual/developmental disability as the primary reason for needing round the clock care, and show a pattern of sexually inappropriate behaviors. Rose Rock began accepting residents into the program in January.
Rose Rock Academy was founded in 2007 to answer the call of families seeking advanced treatment methods for children ages five through 17, diagnosed with autism. The highly-structured environment addresses the needs of children at all levels of the autism spectrum. Behavioral and specialized educational programs foster communication skills, social interaction, and academics.
For more information about Rose Rock Academy or autism, please contact:
Karen Devlin, LPC
Admissions Clinician
Rose Rock Academy
3301 North MLK Avenue
Oklahoma City, OK 73111
Phone: 405.548.1280, Extension 103
Karen.Devlin(at)roserockacademy(dot)org
Autism Speaks
1 East 33rd Street
4th Floor
New York, NY 10016
Phone: 212.252.8584
http://www.autismspeaks.org
###