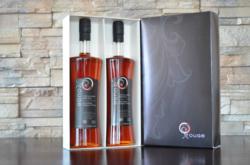 The use of a good maple syrup in the kitchen is as versatile and delicious as a good olive oil, albeit on a different end of the taste spectrum.
Montreal, Quebec, Canada (PRWEB) September 21, 2012
Rouge Canada has officially launched RougeMaple.com, its new e-commerce website. The site is unlike anything seen in the maple syrup industry in that it offers consumers a unique way to buy organic maple syrup, a rare find in most parts of the world as less than 20% of the worldwide supply is certified organic.
With RougeMaple.com's unique "Adopt a Maple Tree" program, customers receive all the organic maple syrup their tree produces over the course of a year, thereby guaranteeing an ample supply. "Our adoptive tree-parents are people who care about the quality of food they serve to their families. They also care about the tree itself, and our adoptions support the longevity of the adopted trees by supporting a producer who maintains the rigorous certified organic standards required. Organic maple syrup is better tasting and healthier but more expensive to produce. It's a question of quality over quantity but also a question of what is better for the tree," says a spokesperson for RougeMaple.com
The company has moved far away from the traditional rustic wood cabin look that people have come to associate with the maple syrup industry. Instead, Rouge maple syrup glass bottles are sleek and unique, having been designed and imported from Italy. Another innovation introduced by Rougemaple.com is the spill proof pour-spout that comes with each bottle. This provides a more controlled pour, and, perhaps more importantly, the end of sticky bottles. And of course, the bottles are reusable, which reaffirms RougeMaple.com's commitment to supporting sustainability wherever possible.
By adopting a maple tree from RougeMaple.com, customers will receive the following gourmet products throughout the year:

Two 500ml (16.91 oz) bottles of Rouge 100% Pure Organic Maple Syrup (1st shipment)
The ROUGE Gourmet Collection, consisting of ROUGE Maple BBQ Sauce, ROUGE Maple Mustard and ROUGE Maple & Raspberry Salad Dressing (2nd shipment)
A copy of The Official RougeMaple.com eCookbook, filled with plenty of delicious recipes to try out
The official personalized Certificate of Adoption for the adopted tree.
The Rouge Shop section of the website offers a nice collection of other unique gourmet maple products, all of which are made with the same high quality organic maple syrup.
"We are trying to show the world that you can do more with maple syrup than simply pouring it on your pancakes and waffles. The use of a good maple syrup in the kitchen is as versatile and delicious as a good olive oil, albeit on a different end of the taste spectrum," says the RougeMaple.com spokesperson.
Maple syrup's popularity has grown immensely as a new wave of culinary innovation has taken hold amongst foodies. And thanks to celebrity chefs such as Bobby Flay, Chuck Hughes and Martin Picard, this new trend looks like it's here to stay.
Adopting a maple tree also makes for a great gift, especially for people who don't compromise on quality when it comes to the food they eat. Shipping is available from all over the world, and for a limited time, RougeMaple.com is offering a free set of Rouge Maple Essential Spices Trio, a value of $26.95, with every adoption. (See the Rouge Shop at RougeMaple.com for more information)
For those who love maple syrup and want to explore its gourmet side, RougeMaple.com is the place to go.
For more information, visit http://www.RougeMaple.com.