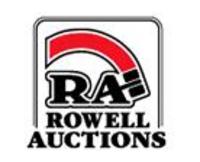 This is an outstanding opportunity for all qualified bidders
Tifton, Ga. (PRWEB) September 12, 2007
Rowell Auctions Inc. , a licensed real estate broker and land auction company, has been commissioned to sell at public auction 121 acres of prime farmland and acreage in Tifton, Ga. The property is located at 852 Tifton-Eldorodo Road just minutes from downtown Tifton. This Georgia land auction will take place on October 3 at 2:00 p.m. on the property under the Rowell Auctions tent.
"The real estate will be sold and offered divided, high bidder's choice, and the sellers will be on hand to confirm the bids of the highest and best bidders," explains Myers Jackson , CAI, AARE, CES, e-PRO and auction coordinator. "We fully expect to write contracts on every tract of land that will be offered."
The majority of the real estate currently has agriculture zoning; however approximately six acres of the tract has highly desirable industrial zoning. The balance of the cultivatable farm land is currently in corn production. Fronted by two major roads in Tift County, the land offers perfect development opportunities for residential and commercial purposes.
When this parcel of Georgia farmland is placed on the auction block, bidders will be given a choice of the piece of real estate that fits their individual needs. This process allows small tract purchasers as well as large tract buyers to bid on the tracts or multiple tracts of their choosing.
Jackson says the auction method of marketing was the preferred way to expose this real estate tract. "In today's environment auctions have the best chance of producing the highest price with the best contract terms, giving buyers and sellers an advantage in any given marketplace."
"This is an outstanding opportunity for all qualified bidders," says David Hart, CAI, AARE, Executive Vice President and Chief Operating Officer of Rowell Auctions, Inc.
Event news and details of the auction are available at http://www.rowellauctions.com or http://www.myersjackson.com. Contact the auctioneers for any questions on the upcoming event by calling direct toll free at 1-800-323-8388.
About Rowell Auctions, Inc.
Established in 1936, Rowell Auctions, Inc. has provided clients with the most comprehensive marketing services for more than 69 years. The company's auction marketing professionals sell real estate and other substantial assets throughout the nation.
# # #