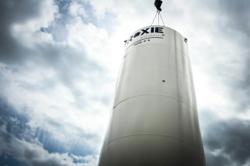 Hellas has experienced outstanding growth over the last ten years.
LIBERTY HILL, Texas (PRWEB) March 26, 2013
Recently, Hellas Construction setup a new satellite location to house its growing fleet of sports facility construction and installation equipment, as well as company-owned transportation vehicles. The fleet and vehicles previously resided at Roxie Polymers, Hellas Construction's running track and polyurethane production plant, but were moved to free up land so Roxie Polymers can expand its manufacturing capabilities. This week, Hellas Construction crews, with the help of two large cranes, installed tank #6 at Roxie Polymers. The 35,000-gallon tank will address an almost overwhelming increase in demand for Hellas Construction's proprietary running track systems, epiQ TRACKS.
Roxie Polymers employs a full-time staff at both Liberty Hill locations, including an on-site chemist and quality control expert responsible for maintaining the high-quality products Hellas (and Roxie) are known for throughout the sports construction industry. Now, in addition to manufacturing epiQ TRACKS for its US-based orders systems, Hellas Construction has begun fulfilling orders for the eco-conscious track systems for international clients.
"These are exciting times for us," commented Reed J. Seaton, President and CEO of Hellas Construction. "Hellas has experienced outstanding growth over the last ten years. Growing our manufacturing capabilities is necessary to continue delivering our projects on-time and on-budget."
Under direction from Hellas Construction, Roxie Polymers has pioneered advances in the production of highly durable running track systems (epiQ TRACKS) that are conscious of the environment and IAAF certified – a certification required of running tracks that will host international track and field competitions.
Hellas Sports Construction is a nation-wide sport contractor with a solid reputation for delivering premium-quality sports construction projects across the United States. In addition, Hellas manufactures and installs its proprietary brands of synthetic surfaces for field sports, running tracks and tennis courts, controlling operations from one of several US-based offices. Clients include the NFL Experience, Cowboys Stadium, AT&T Cotton Bowl Classic, University of California at Berkeley, Baylor University, Idaho State University, the Alamodome, Northern Arizona University, University of North Carolina at Charlotte, University of San Diego and various other prominent high schools, collegiate institutions, and stadiums.
For more information about epiQ TRACKS, visit: http://www.epiq-tracks.com
For more information about Hellas Construction, visit: http://www.hellasconstruction.com