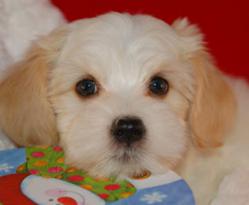 Your demeanor dictates your puppy's attitude. You control his behavior,
Charlestown, RI (PRWEB) February 28, 2013
Royal Flush Havanese reviews tips on how to raise a well adjusted, confident puppy that will be a happy, confident member of the family. Both adults and children in the household can encourage a safe, calm environment in which a puppy grows to be a well adjusted adult.
Always approach a puppy from the side or front. Never sneak up on a puppy. Get down to the puppy's level so you don't appear so big and scary to him. Hold your hands low and come toward the puppy from underneath his chin so he can sniff your hand and doesn't feel threatened by your hand coming down on top of his head.
Move slowly, not in jerky movements which could scare a puppy. Speak calmly. Shouting and shrieking can be frightening. Never pounce on a puppy or he could bite as a reflex reaction. A puppy can bite out of fear because he is nervous.
Don't encourage protective behavior. What seems cute now will turn into very scary behavior from your dog as an adult if he becomes protective of certain family members.
Know the difference between playing and teasing or wrestling. Playing is a positive experience and your puppy is wagging his tail and happy. Teasing, wrestling and tug of war games can make your puppy feel aggressive and self protective, resulting in negative behavior.
You can control your puppy's behavior by your demeanor. Speak calmly and move slowly and you will immediately see your puppy's attitude become clam. You have all the control.
Turning the food dish while your puppy eats will insure that he does not become food aggressive. Feed him a few kibbles from your hand now and then but don't make a habit of treating or every time you put your hand down to pet him he will be nipping at you searching for food.
Children should play with the puppy on the floor. A calm puppy carried by a child can instantly squirm loose and get hurt landing on the floor. This is not only dangerous but also can leave a lasting negative impression on your puppy. Even if your child is sitting quietly on the couch with your puppy sleeping in his lap if the puppy falls off the couch he could get hurt or be frightened permanently.
The environment you provide for your puppy starts as soon as he is picked up from the breeder. Remember, your demeanor will dictate the puppy's attitude. Frightening experiences at this point can set the puppy up for a lifetime of fearfulness and positive experiences will lead to a confident, well adjusted puppy.
Royal Flush Havanese raises happy, healthy, well socialized puppies in their home with an abundance of love and attention. The company is BBB accredited and boasts and A+ rating as of the date of this publication. Visit Royal Flush Havanese's Facebook page to see lots of photos of happy, well adjusted adults our puppy parents have posted. Like us on Facebook and we will donate $1 to the Leukemia and Lymphoma Society.