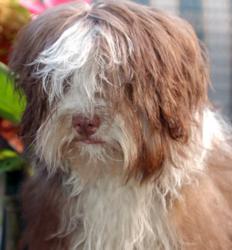 Don't give your puppy the opportunity to have an accident!

Charlestown, RI (PRWEB) July 18, 2012
Housebreaking a new puppy will be quick and easy as Holly Mastroianni of Royal Flush Havanese reviews these simple tips used successfully with puppies starting at 8 weeks of age through adulthood.
Every puppy and adult must get comfortable wearing a collar. Two fingers should be able slip under a well-fitted collar after it is secured on your puppy. Initially he may jump, squirm, cry, scratch and roll around on the ground trying to remove this foreign object from his neck but if he is ignored, he will quickly accept wearing his collar like a person gets used to wearing a new ring. Once your pup is ignoring his collar, attach the leash and let him drag it around until he is comfortable. Pick up the other end of the leash and follow your pup around.
Use a four foot leash inside the house and keep your puppy tethered with the leash whenever he is on the ground. Don't let your puppy loose in the house until he is consistently doing his business outside! Whenever your puppy wakes from a nap, plays for a while, eats, drinks or starts circling the floor, it's time to bring him out.
Switch to a longer leash, preferably a lightweight retractable one. The leash shouldn't be a chore for the puppy to drag through the grass. If your pup is small enough you can carry him out initially and put him down where you want him to get used to eliminating. Don't pull him around on the leash but follow him as much as your yard will allow and give him the command "do your business". Repeat this command while he is eliminating and when he finishes tell him what a good boy he is. He doesn't need a treat. Your praise is his reward. If he doesn't go right away, be patient.
When you bring him back in the house put the four foot leash back on and continue to keep him by your side until the next trip out to eliminate. Within days you will learn his schedule and he will be doing his business outside consistently. He wants to please and if you follow the same routine he will quickly understand that his business is always to be done outside.
Don't give him the opportunity to have an accident. Keep this in mind as you train your puppy or adult and you will be successful. He can't have an accident if you don't give him the chance to make a mistake. For more tips on training you can write to Ask Holly. Royal Flush Havanese is the only dog breeder in Rhode Island BBB accredited. The company specializes in breeding healthy, happy havanese puppies for deserving families. As reputable havanese breeders, every puppy is home raised and health is guaranteed for 6 years.