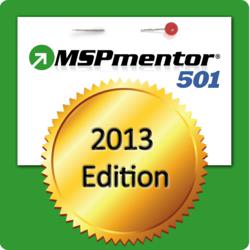 We make IT work.
Pleasanton, CA (PRWEB) March 05, 2013
Rubiconn LLC has landed on Nine Lives Media's sixth-annual MSPmentor 501 Global Edition (http://www.mspmentor.net/top501), a distinguished list and report identifying the world's top 501 managed service providers (MSPs).
"We are very pleased to be included in this year's top 501 list," says Tim McKissick, Rubiconn's President and CEO. "Our goal is, and always has been, to provide cutting-edge service and solutions tailored to the client's business needs and strategies. It's great to be recognized for our successes."
The MSPmentor 501 report is based on data from MSPmentor's global online survey conducted October-December 2012. The MSPmentor 501 report recognizes top managed service providers based on a range of metrics, including annual managed services revenue growth, revenue per employee, managed services offered, and customer devices managed.
Rubiconn is a national provider of managed IT services and was one of the first companies to offer private cloud solutions. They specialize in delivering affordable, big business services and solutions to small and medium-sized businesses.
According to Bill Ruby, "One of our primary aims is to help clients leverage technology in a way that enables them to be more productive and profitable. Quite simply, we manage the technology so they're free to manage their business. It's a win-win situation that allows everyone to do what they do best."
Rubiconn offers technology as a service (flat-fee IT), data network & security, backup & disaster recovery, virtualization, cloud computing, business consulting, online marketing strategy, and web design & hosting.
If you would like more information, please visit: http://www.rubiconn.com