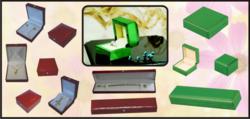 Given the good results in 2012 and the development opportunities for this year, we expect to triple turnover in 2013.
(PRWEB UK) 13 March 2013
RubinShop.ro was launched in 2012 as an online B2B shop selling jewelry boxes and accessories, with products always in stock and immediately delivered by courier. The site offers international sales and distribution with versions available in English, Romanian, French, German and Italian.
Since its launch six months ago, RubinShop.ro had sales of $10,000, with the majority of sales coming from Romania. The most popular items sold have been velvet boxes in the 3000 Collection and the RE Collection, as well as cardboard boxes in the ET Collection.There are 339 products currently in the shop.
"In order to be successful, businesses must adapt to market evolution and always offer products geared to satisfy the current market demand. The launch of RubinShop.ro/eng/ last year enabled customers to find a variety of boxes and displays for jewelry, suitable for all their needs and preferences, all in one place and at reasonable and affordable prices," explained Florin Pantelimon, General Manager of Rubin 2000, the company that owns the site.
The shops products are shipped from stock anywhere in the world as soon as soon as they are processed. The international site, RubinShop.ro/eng/, currently offers a wide range of cardboard, velvet, wood and leather imitation jewelry boxes and jewelry displays and accessories. Customers will also find a category dedicated to special occasions, products for holidays such as Christmas, Easter, Valentine's Day and other important life moments like weddings and etc. There are also a Sale section and a Special offer section to make selections from.
"In 2013 we will focus on strengthening the product range with new collections, as well as on enriching the variety of packaging products available on the site. We will focus on promoting internationally and on developing versions of the site in other languages. Detailed product presentations will also be one of our top priorities, as well as continuous optimization for all types of devices (smartphones, tablets)," added Florin Pantelimon. "Given the good results in 2012 and the development opportunities for this year, we expect to triple turnover in 2013."
About Rubin 2000
Rubin 2000 is a young dynamic company founded in late 2000. The company imports and markets a wide range of jewelry boxes, displays, and accessories on http://www.rubinshop.ro/eng/. These include: jewelry boxes from various materials, jewelry bags and pouches, presentation boards and jewelry accessories.