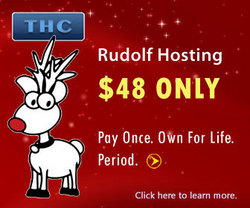 Merry Christmas and a Happy New Year from Top Hosting Center!
Montreal, Canada (PRWEB) December 25, 2008
Rudolf is the name of a special web hosting plan launched by THC in 2007. The plan offered then a one-time payment option for lifetime web hosting. Owners of these plans have hassle free ownership of their hosting solution forever - period.
The Rudolf hosting plan that took the blogosphere by storm in 2007 and helped THC become one of the fastest growing web hosting companies last December, is back this season with two business class hosting solutions that will solve your hosting needs.
Rudolf Mini and Rudolf 2.0 are two of the attractive seasonal promotions from Top Hosting Center. Both plans feature life-time ownership of rich web hosting platforms that meet all the customary demands: free site builder, content management systems and blog platforms, image gallery, poll and survey software, spam protection, secure FTP access, PHP 5, MySQL, Perl, domain and subdomain parking, secure email accounts, control panel, 24 hours support and much more. View a listing of what Rudolf offers this year or visit the demo site to try out some of the tools offered by THC in these plans. The Rudolf promotions are available for both new and existing Top Hosting Center customers.
Other seasonal promotions include a 50% discount for all other shared hosting plans for THC existing customers plus a new and improved "Speedy" hosting plan, now with unlimited monthly bandwidth, snapshot backup every three hours to keep your data secure and free email marketing. All special offers are valid till the end of January 2009.
"Merry Christmas and a Happy New Year from Top Hosting Center!"
###