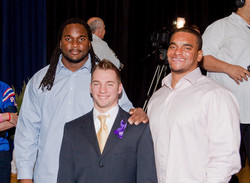 High school athletes, and especially the ones being considered for the Rudy Awards, are motivated to prove there is no injury too severe, no setback too big & no circumstance too difficult to overcome. - Drew Bledsoe
Bend, OR (PRWEB) November 4, 2010
Daniel 'Rudy' Ruettiger and Trusted Sports, Inc. (TSI) today launched the 2010 High School Football Rudy Awards and the search for the nation's most inspirational high school football players. A total of $25,000 in academic scholarships will be awarded to those players who bring the most heart to the game, as opposed to the highest stats. A Selection Committee led by former NFL quarterback, Drew Bledsoe, along with a fan vote will choose the winner who will receive a $10,000 college academic scholarship. Two runners-up and a fan favorite will each receive $5,000 scholarships. Anyone can nominate a player online at http://www.HighSchoolRudyAwards.com. Nominations close November 23rd, 2010.
Rudy's story is the most famous 27 seconds in the University of Notre Dame's history that inspires millions each year as the leaves change and football season commences. "This award has put the spotlight on our youth and their extraordinary achievements, allowing us to share their inspiring stories with America. I'm blown away by these kids, the struggles they've overcome and the fact that the Rudy Awards has allowed us to literally change lives," said Ruettiger.
In 2009, TSI developed the High School Football Rudy Awards to recognize outstanding youth athletes, not because of their statistical performance, but because of their ability to inspire teammates, classmates and communities. Last year, 396 young athletes from 48 states were nominated by coaches, parents and teammates for this prestigious award, and generated over 2.9 million votes and inspires from fans across the country. Said former NFL Quarterback and Selection Committee Chairman Drew Bledsoe, "Nothing matches the purity of heart and desire of a high school athlete determined to overcome all obstacles. The motivation has nothing to do with money or fame. High school athletes, and especially the ones being considered for the Rudy Awards, are motivated to prove there is no injury too severe, no setback too big and no circumstance too difficult to overcome. Hats off to these young men! They remind us of all that is right with athletics."
2009 High School Rudy Award recipient, Calob Leindecker received his scholarship from Ruettiger in an award ceremony in his hometown of Baton Rouge, LA. Leindecker, now attending LSU, had lost his leg in an automobile accident. After nine surgeries and returning to the football field, he inspired everyone with his words "You can take my leg, but you can't take my heart".
The 2010 Selection Committee includes notable sporting personalities such as Leigh Anne Tuohy, mother of NFL player Michael Oher and inspirational figure of the film The Blind Side; Shaun Alexander, former Seattle Seahawks running back and NFL MVP; and NBC Football Sideline Reporter, Andrea Kremer.
Become a fan on Facebook.
About Trusted Sports
'Getting and Keeping Kids In The Game' is the mission of Trusted Sports. The organization empowers young athletes to live up to their full potential through positive sports experiences that form active, healthy habits for a lifetime. With more than 70% of kids dropping out of sports before they turn thirteen, Trusted Sports was created to motivate kids to thrive in life through sports by inspiring, educating, and uniting young athletes, parents, coaches, and their communities.
###