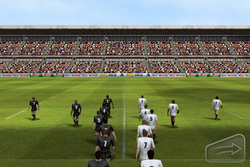 Rugby is a great sport watched by millions around the globe but it's a sport that has been underrepresented by the games industry for many years. We are dedicated to providing a game of the same quality that round-ball sports fans have enjoyed for so long
(PRWEB) January 14, 2011
Distinctive is committed to providing the most realistic Rugby Union experience on smartphones to fans of the sport the World over. As an accomplished developer of sports games, Distinctive prides itself on being an active member of the sports and gaming communities to bring fun and authenticity into their games. Rugby Nations is no exception, as it has been developed in co-operation with Rugby fans and gamers alike to capture the true essence of Rugby in a way that is thoroughly enjoyable to play on your phone.
This approach has served Distinctive well, as since its release in October 2010, Rugby Nations 2010 has been a consistent performer reaching a position in the top 20 of all apps in the UK, selling eight times quicker than Rugby Nations 09.
While Rugby Nations 2010 has now built up a strong fan base and exceeded all expectations set upon it, the work is not over for Distinctive. Further updates will be released later in the year to make it synonymous with the one and only true experience of Rugby Union gaming on your smartphone.
Nigel Little, Managing Director of Distinctive said "Rugby is a great sport watched by millions around the globe but it's a sport that has been underrepresented by the games industry for many years. Rugby Nations has been redressing this and we're dedicated to providing a game of the same quality that round-ball sports fans have enjoyed for so long."
Rugby Nations 2010 is available now for iPhone, iPod Touch, Android and Bada.
About Distinctive Developments
Distinctive Developments has been making award-winning high-profile mobile games since 2001. As a trusted developer for all major gaming publishers from EA to Namco, Distinctive has worked on some of the biggest brands in the world, including FIFA, Tomb Raider and Sonic the Hedgehog.
Alongside developing games for publishing and marketing partners, Distinctive has published a range of its own top-selling titles, including Hockey Nations franchise, Bonecruncher Soccer, Dead Runner and Rugby Nations titles. Self-publishing not only gives Distinctive the creative freedom but also offers the golden opportunity to interact with the gamers directly. This allows Distinctive to continue delivering unique high-quality games the fans are looking for.
More about Distinctive Developments can be found on their website: http://www.distinctivegames.com or email pr(at)distinctivegames(dot)com
###