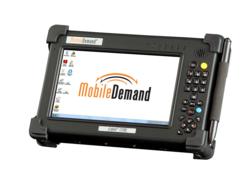 As one of the top universities in the world, for this critical mission we wanted to make sure we had quality technology that we could depend on in these harsh conditions.
Hiawatha, Iowa (PRWEB) March 25, 2013
MobileDemand, a global provider of rugged Windows tablet PCs, is excited to announce a unique and demanding application for the xTablet T7200. On March 26, three Duke University researchers and 12 research subjects will begin a 10-day trek up Mount Everest where they will study whether or not the amount of oxygen in blood is related to Acute Mountain Sickness (AMS), also known as Altitude Sickness.
Traveling to the Himalayan mountain range in Nepal, South Asia, researchers will spend 10 days hiking to Mount Everest base camp (17,598 foot altitude) and each individual will be wearing a pulse oximeter which will collect the necessary blood oxygen data. This data will be collected continuously for 24-hours a day for the entirety of the hike and will be downloaded each day to the MobileDemand xTablet T7200 rugged tablet PC for secure storage. The researchers have also created a data collection form so that the subjects can record daily AMS symptoms directly onto the tablet PC.
The purpose of the study is to measure blood oxygen levels of the researchers using a non-invasive device during sleep and while walking to base camp. They will then assess the presence of any AMS symptoms and compare them to the blood oxygen levels. The symptomology results along with the oxygen level data will help them determine if the amount of oxygen in blood at such a high elevation is related to the severity of AMS.
"As one of the top universities in the world, for this critical mission we wanted to make sure we had quality technology that we could depend on in these harsh conditions," said Dr. Christopher Young, Department of Anesthesiology at Duke University. "We selected the xTablet T7200 because of its lightweight, yet rugged high performance and functionality."
The xTablet T7200 running Microsoft Windows 7 Pro and a powerful Intel processor is designed to withstand the elements such as those that will be encountered on the Mount Everest trek. The ruggedized tablet is IP65 rated meaning it is impervious to rain and snow and its MIL-STD 810G certification means it will survive repeated drops from four feet. With temperatures below freezing throughout their trip to base camp, the xTablet T7200 will thrive in these conditions, keeping their mission-critical data safe from the elements and securing it for further studies.
"We built the xTablet T7200 to stand apart from other tablets with its unique and easy to use computing power coupled with its sheer ruggedness," says Bob Zink, VP of Sales and Marketing at MobileDemand. "The Duke University researchers will have peace of mind knowing that while their bodies will be pushed to the limit on Mount Everest, their technology will not."
To view video, pictures and other information visit, http://blueprint.duhs.duke.edu/?p=782849.
About MobileDemand
MobileDemand is the nation's leading provider of rugged tablet PC systems used in the transportation industry to improve productivity, anywhere. MobileDemand xTablets are used by mobile workers in many other industries including Food and Beverage Distribution, Manufacturing, Retail, Field Service, Military and Public Sector to cut operational costs and improve customer service. MobileDemand xTablet Rugged Tablet PCs and accessories are built military rugged to withstand harsh environments. They deliver the power, reliable performance and long-term savings companies need to achieve greater efficiency and productivity in the field. In 2012 MobileDemand earned the position of 1,034 on the 2012 Inc. 500/5000 list of the nation's fastest growing private companies. The company has built its success on a commitment to innovation everywhere – in product design, customer relationships and in its channel. President Matt Miller also received recognition as a finalist for the prestigious 2012 Ernst & Young Entrepreneur of the Year award. MobileDemand. Innovation everywhere. Productivity anywhere. Additional information is available at http://www.RuggedTabletPC.com.