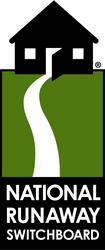 Incoming calls to NRS are up 32 percent since 2003
Chicago, IL (PRWEB) February 14, 2009
Chicago -- The National Runaway Switchboard (NRS) is reporting that family dynamics and abuse continue to be the top reasons runaway and at-risk youth reach out for help, according to its annual call volume statistics analyzing crisis calls handled through the organization's free, anonymous and confidential 1-800-RUNAWAY hotline.
Among youth crisis calls the report reveals:

Forty-four percent called because of family dynamics (divorce, remarriage, problems with siblings) and abuse (substance, physical, sexual, neglect).
More than half (51 percent) of the youth were already on the street as a runaway or throwaway.
More than half (56 percent) said they had been away from home between one and seven days before calling NRS (on the street, with a friend, at a youth shelter).
A majority (52 percent) were between 15 and 17 years of age.
Seventy-two percent were female, 28 percent were male.
"Incoming calls to NRS are up 32 percent since 2003," said Maureen Blaha, NRS executive director. "This data provides a wealth of information that helps us further understand runaway and at-risk youth, problems they face and the success of our prevention efforts."
From January through December 2008, NRS handled a total of 114,097 calls - 98,577 incoming and 15,520 outgoing calls, such as to a local shelter or social service agency on a youth's behalf or to relay a message home from a youth on the run. NRS calls were with runaway and at-risk youth, parents, relatives and friends of runaways, social service and youth agencies.
The National Runaway Switchboard, established in 1971, serves as the federally-designated national communication system for homeless and runaway youth. Recognized as the oldest hotline of its kind in the world, NRS, with the support of more than 150 volunteers, handles an average of 100,000 calls annually - more than 3 million calls since the organization's inception. NRS provides crisis intervention, referrals to local resources, and education and prevention services to youth, families and community members throughout the country 24 hours a day, 365 days a year. Over 13,000 youth have been reunited with their families through the NRS Home Free program done in collaboration with Greyhound Lines, Inc. The NRS crisis hotline is 1-800-RUNAWAY. For more information, visit http://www.1800RUNAWAY.org.
CONTACT:
Joel Kessel
(614) 467-9083
###