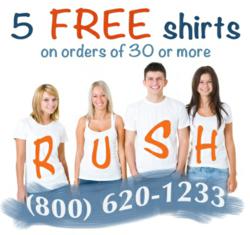 ... don't panic when that moment arrives, just call us.
Philadelphia, PA (PRWEB) April 16, 2012
"There are all kinds of reasons consumers need custom tees fast" explained Ron Reed, VP of Marketing and eCommerce with custom t-shirts printer Rush Order Tees. "The most important thing to remember is that it IS possible, so don't panic when that moment arrives, just call us."
It's hard to believe that custom t-shirts can be printed in a rush given the complex equipment and process involved but there are business that have it down to a science.
"As long as you find a company that can print custom t-shirts fast and make it part of a package, you should be able to get what you need quickly for just a small fee over the normal price." continued Reed. "You can also take advantage of these rush services if you are planning a t-shirt fundraiser.
"You don't always have the notice you need to get things done, but you don't need to worry about that if you're planning to offer custom tees, sweats, or other custom apparel."
This allows schools to raise money on short notice and have custom team shirts in time for important tournaments. Imagine a school administrator trying to get championship or playoff shirts for the school team in time for that big tournament.
"We have actually printed shirts for professional and college teams with a day or two notice before a tournament. But it's not just teams and schools that need them in a rush, we have printed shirts for global organizations like Google and Microsoft as well as for television shows. I recall we printed shirts for a show on Oprah Winfrey's Network after getting the call the day before the shoot. We got them done and to New York in time for them to be on the show."
Contact Rush Order Tees at 800.620.1233.
About Rush Order Tees | a Printfly Company
Printfly and Rush Order Tees are eCommerce based businesses built on repeat business and referrals from satisfied customers, Rush Order Tees has grown to be a major leader in the custom shirt printing industry.
Since it's founding in 2002, Rush Order Tees has expanded its product offering beyond custom printed shirts to include a wide variety of sports, academic, community-driven, commercial and business offerings.
As it began to grow out of it's prior facilities, Rush Order Tees acquired a 15,000 SF facility in Philadelphia, PA which they equipped with over twenty of the highest quality screen printers, digital printers (DTG Direct to Garment printers), screen exposure units, screen printing heaters and much more. Now, in 2012, the business continues to grow to a point that now requires a new facility and offices.
Their customers have voiced their well earned allegiance and appreciation across many consumer-driven review sites earning Rush Order Tees and Printfly overwhelmingly positive online rating and reviews across the leading sites including Google, Superpages, Yellow Pages, and the Better Business Bureau where they hold a certified A+ Accredited Rating.
Contact Rush Order Tees at 1 (800) 620-1233