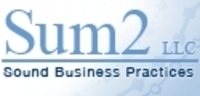 Little Ferry, NJ (PRWEB) August 29, 2007
Sum2, LLC is pleased to announce the results of its Russell 2000 bank performance assessment study. The study is being released in conjunction with the Sum2's recently announced bank channel small business marketing initiative (BC-SME). The study is designed to examine the relative performance of 192 publicly traded bank constituents of the Russell 2000 Small Cap Equity Index. The study calculates an overall performance score for the sector, scores for each bank, and scores of six key performance indicators (KPIs). The study is designed to assist banks to determine performance relative to their peers. The data used for the calculation of the performance scores are based on reported financial statements for 2006.
The study indicates that the sector constituents are relatively healthy with over 106 bank's scoring above the average performance score of 63.9. The study did uncover two troubling indicators that will be exacerbated by tightening credit markets. The two KPI's that are significantly under performing are revenue generation and leverage. Each KPI is a strong early warning signal of deterioration in operating performance and balance sheet weakness. As growth slows in the consumer lending market and the cost of capital increases the weak KPIs could signal an emerging distressed condition for the lower quintile performers.
The franchise for these banks is overwhelmingly centered on marketing consumer financial products in their local geographic markets. Though regional market conditions are an important factor for these banks, the pressure on the consumer finance market will press these banks to realize meaningful growth in revenue.
The study included 192 constituent banks in the Russell 2000 Index. The KPI's measured were revenue generation, profit growth, cost structure, debt service, leverage ratios, solvency position. The study also reports an overall performance score.
Highlights of the study include:
Average Performance Score (63.9)
Banks Above Average (106)
Banks Below Average (86)
High Score (75)
Low Score (50)
Average Score for Profitability (66.1)
Banks Above Average (95)
Banks Below Average (97)
High Score (78)
Low Score (49)
Average Score Cost Structure (60)
Banks Above Average (32)
Banks Below Average (160)
High Score (69)
Low Score (48)
The market dynamics for this segment of the banking industry is very challenging. Competitive market pressures, heightened regulatory demands and growing credit risk exposures in the consumer markets are pressing concerns for this industry. This segment's competitive landscape is under intense pressure from S&L's for its retail business and from the larger regional and money center banks in the commercial and consumer markets. Heightened diligence in risk management practices and a sharp focus on product marketing to healthy market segments are the key building blocks for sustaining growth, profitability and value creation for shareholders in these 192 banks.
This Russell 2000 Bank study follows the well received New Jersey Community Bank study released by Sum2 in April. That study comprised 18 publicly traded banks. The results paralleled those of the larger Russell 2000 study, with the regional New Jersey group showing slightly higher performance KPI's in profitability and revenue growth.
In response to these pressures many banks are targeting small and mid size companies as a potential growth market.
Sum2 designed SMB 360 to assist banks to develop business within the small, mid size enterprise market. The SMB 360 provides excellent engagement tools that will help banks develop a strong market presence with small and mid-size businesses.
For more information on this study please call 201.440.1173.
SMB 360 can be ordered through Amazon.com. Go to http://www.sum2.us for link.
About Sum2, LLC
Sum2 was founded in 2002 to promote the commercial application of sound practice programs in the capital markets. The objective of Sum2 is to assist businesses and industries to implement corporate sound practices that add exponential value for share holders, employees, customers and to be exemplary citizens within the communities in which they operate and serve.
For more information on this program or to order products offered by Sum2 please contact customer.service@sum2.us or call us at 201.440.1173. Sum2's mailing address is PO Box 184, Little Ferry, New Jersey 07643.
###