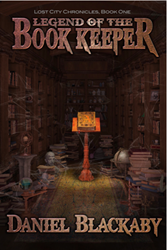 "This inaugurates a trilogy that young fans of the fantastic will like for its fast-paced action." - Publsher's Weekly
Boise, ID (PRWEB) April 12, 2013
As Daniel Blackaby's Lost City Chronicles continues to thrust its readers into the next adventure with book two, City of Gold, many are still captivated by book one, Legend of The Book Keeper. This young adult fantasy thriller is the pivotal starting point for any new fan and sets the stage for the entire trilogy. Legend of The Book Keeper now has a new book trailer to give new readers a glimpse at what this fantasy thriller is all about.
About the Book
Cody Clemenson, a seemingly ordinary teenager, isn't particularly good at anything. While browsing through a used bookstore, he discovers and opens a mysterious book that awakens a bloodthirsty beast and Cody finds himself thrust into an ancient battle between two powers at the earth's center. Will Cody, along with his best friend, Jade, arise to the occasion to save this newfound world? Can this ordinary boy handle the responsibilities required to become the Book Keeper? Or will the Book fall into the hands of the world's most evil empire?
"This inaugurates a trilogy that young fans of the fantastic will like for its fast-paced action."
-Publsher's Weekly
An exciting tale full of mythical locations, the Legend of the Book Keeper is the first book in The Lost City Chronicles trilogy. Lying in bed one night reflecting on how people can take different approaches to the same issue, the extravagant story came to Blackaby instantly. And, thus was born The Lost City Chronicles.
"Shades of Jules Verne, JRR Tolkein, and a little George Lucas"
-Reflections in Hindsight
About the Author
Grandson of acclaimed author, Henry Blackaby, and son of speaker and author, Richard Blackaby, Daniel Blackaby is the emerging voice in the Blackaby publishing tradition. Daniel's greatest passion is exploring the magical world of language. As a child, when not crafting elaborate fantasy tales, he could be found with his nose buried in a great book. Now, with a young writing career that includes successful non-fiction (When Worlds Collide), he returns to his first love of imaginative fiction with his debut trilogy: The Lost City Chronicles with Russell Media. He currently resides in San Francisco, California with his lovely wife, Sarah, where he eats shameful amounts of fish and chips and sourdough bread.
City of Gold, book two of Lost City Chronicles will make its summer release June 23rd where all fine books are sold. It's available for pre-purchase on Amazon and available in print or ebook version.