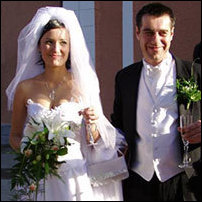 Gold Coast, Australia (PRWEB) September 13, 2006
According to Elena's Models, a dating agency for western men seeking Russian and Eastern European women for marriage, there are notable differences between men that join Russian brides websites but never pay and men that pay for their services. Men of all ages and walks of life join Russian marriage agencies but it is more mature men that actually pay for the services; younger men appear to be in a 'window shopping' mode.
Country-wise, most paying members are from United States, with United Kingdom holding sizable second, which is no surprise as those countries are also the leaders by the number of registered users. Other countries in top 10 include: Australia, Canada, Norway, Germany, Netherlands, France, New Zealand, and South Africa. Turkey, which is number 3 for the number of users registered on ElenasModels.com website, didn't make it into the top 10 by the number of paying users, as well as Italy and Spain (number 6 and 10 respectively by the number of registered users); Norway, New Zealand and South Africa replaced them in the top 10. Apparently, hot-blooded European Southerners prefer looking while men from distant and cooler countries are jumping into action.
The average age of paying members seeking Russian 'mail order brides' is 42.9 years vs. 37.8 years for non-paying members, with only 5.1% of paying members being under 30 years old compared to 21.1% for non-paying members. Under-30 men do not appear particularly serious about marrying someone halfway around the world.
Paying members of international dating services are more likely to be divorced: 47.8% of paying members of Elena's Models are divorced vs. 33.2% for non-paying members. Paying members are also more likely to already have children: 39.3% of paying members have children compared to 28.8% for non-paying members.
Non-paying members of Russian dating sites appear to be more frivolous than paying members: the non-paying members are twice as likely to be searching for a Russian bride while still being legally married; 7% of non-paying members are married or separated vs. only 3.9% for paying members.
Non-paying males seeking Russian brides are nearly twice as likely to smoke compared to paying members: 37.1% of non-paying members enjoy lighting a cigarette, while only 21.9% of paying members smoke.
There are slightly more widowers among paying members: 2.1% of widowers among paying members compared to 1.8% among non-paying members. The educational level of paying members is also slightly higher: 86.1% of paying members have college education or higher compared to 82.7% for non-paying members.
Ethnically, 90.7% of paying members seeking Russian brides are white, while among non-paying members only 81.7% are white.
The new research confirms that the majority of serious Russian bride seekers are college educated white males 30-50 years old with previous marital experience. According to Elena Petrova, the owner of Elena's Models, most of their male clients seek younger women of childbearing age to start a family with. Producing offspring is the main driving force of the most men joining Russian dating sites, although when asked men would usually bring up the subject of 'traditional family values' rather than the desire to find someone younger and prettier. Men are afraid to appear shallow desiring a younger partner, and this is why the subject of values is often brought up. However, men seldom contact women of their own age no matter how much the women discuss their devotion to family life, and prefer contacting younger women displaying their full-length photos. The country of residence of the prospective bride is irrelevant to a man; thus confirming once more that it is not the cultural background they are after.
The complete report on demographics of men seeking Russian women for marriage can be accessed here:
Men paying for services of Russian dating agencies
About Elena's Models:
Dating Agency Elena's Models is an introduction service providing a safe environment for western men to meet Russian and Eastern European women with the intention of future marriage. The dating service has more than 77,000 registered users from 176 countries, and assists people around the globe since 1999.
###