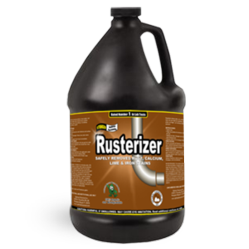 ...rust contractors have been using it and cutting $1, 000s in their labor expense...
Seattle, WA (PRWEB) March 12, 2013
Rust formation is triggered by one thing– moisture. However, it could damage so many items. So to help everyone protect their valuables from corrosion, My Cleaning Products advised the use of the non-toxic Rusterizer. And announcing that it still offers complimentary samples of it, the company encouraged the public to try the said rust removal spray and see for themselves how well it works.
Corrosion is basically most damaging on metal items. That's because, by definition, rust is the reaction between iron metal and oxygen in water or moisture. If not treated early, rust could eat away metal-made items and structures or freeze the parts of metal tools and equipments making it useless.
But apart from things made of metals, rust could also damage items of other materials. Examples of those materials are wood, plastic, glass, concrete and, of course, fabric.
Particularly, corrosion could damage all those other materials with its stain, said My Cleaning Products. If not cleared right away, that stain could stay on the piece permanently and decrease its aesthetic value.
So, whether it is rust or just its stain, a removal process must immediately come after its sighting. Apart from saving the piece from the worst, the prompt rust treatment also makes the process easier to complete. However, for that to work, a help is needed.
According to My Cleaning Products, there is no better help that any rust victim could get than an effective and safe rust remover. With it, one could get rid of rust or its stain effectively without compromising anyone's health.
But among the rust removal sprays that claim to be safe, MCP said that Rusterizer is the best. As it said, rust contractors have been using it and cutting $1, 000s in their labor expenses, thanks to it. And because it is made with organic ingredients, it also spares its users and all the others exposed to it from chemical risks.
Moreover, My Cleaning Products, apart from recommending Rusterizer, also announced that it still gives out complimentary samples of it. It urged the public to get them today and see for themselves the effectiveness and safety of the said rust remover.
Complimentary Samples of Rusterizer are Available at MyCleaningProducts.com, MCP related.