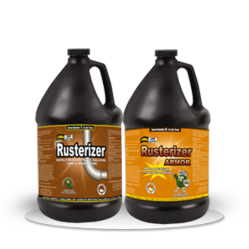 ...with a rust remover, one doesn't have to spend too big to execute an effective process.
Seattle, WA (PRWEB) March 25, 2013
A new rust removal guide was published by My Cleaning Products. On it, the company shared how to do a rust treatment in three steps. But as it stated, that would need the help of a rust remover. Of all the rust removers though, it only recommended Rusterizer.
Rust could bring several damages to a lot of items – metal and non-metals – said My Cleaning Products. It enumerated those items and even explained how metal corrosion could affect them.
Because of all those damages that rust could bring, MCP asserted that rust removal is essential. However, it specified that the process must be prompt so it could still save the damaged piece and prevent additional spending for their replacements.
Nonetheless, the company said that rust removal is not the only process included in a rust treatment. It specified that before it, rust detection must first be implemented. And after the removal, it asserted that rust prevention must follow it up.
It is easy to detect rust given the change in color it causes to an item, said My Cleaning Products. However, to areas or items covered or hidden, it specified that leaks or any source of moisture should be taken as warning to possible rust formation.
Meanwhile, in rust removal, it stated that one could either choose to do it manually or with help. Between the two choices though, it stated that it is better to get some help as it makes the process easier and faster to complete. However, of the two rust removal help, namely rust remover and rust contractor, it determined the former as the better pick. As it reasoned, with a rust remover, one doesn't have to spend too big to execute an effective process.
However, of all the rust removers, My Cleaning Products declared Rusterizer as the best. It said that apart from making the process effective, it also makes it safe. That's because it is organic-based, it explained. And as it added, that was proven true by rust contractors who shared that they even saved $1,000's with the product's help.
To complete the rust treatment though, MCP stated that Rusterizer must be paired with Rusterizer Armor. It detailed that as anti-corrosion, it could prevent another rust formation in a still effective and safe way as it is also organic-based.
So the public could prove that Rusterizer and Rusterizer Armor are indeed effective and safe, My Cleaning Products also encouraged the public to try them. It shared that Rusterizer and Rusterizer Armor Complimentary Samples are now available at MyCleaningProducts.com.