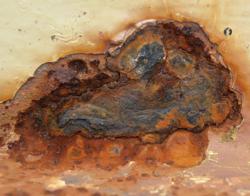 ...Rusterizer is made with organic-ingredients. So, it's not a risk to anybody's health.
Seattle, WA (PRWEB) March 26, 2013
There are several rust removers available for purchase. However, it's certain that many of them are not as they claim. So for a solution that could truly solve a rust problem while reducing the removal expense, My Cleaning Products said that one should go for Rusterizer. And to prove that it is the best, it offered samples of it to the public.
Given that rust appears on iron metal, those items made of it are the most-vulnerable to corrosion. Rust could weaken them and even completely eat them away if rust removal is not promptly and properly implemented. And as a result, they could cause accidents and bring in major expenses.
However, My Cleaning Products stated that although pieces made out of iron metal are the most susceptible to rust, they aren't the only things it could damage. As it stated, even items made of other materials as plastic, wood, concrete and fabric could be ruined by corrosion. Particularly, it is the rust stain that could debase them, it said.
Among the metal items, garden tools, kitchen wares, furniture pieces and automobiles are the most prone to rust, MCP enumerated. Meanwhile, walls, ceilings, garage, bathroom, kitchen, clothes and sheets are the ones often stained by rust, it shared.
But no matter if it is the actual corrosion or just its stain that has to be dealt with, one could still get rid of it and save the piece. The thing needed is the right rust remover applied spot on to the rust or the stain right after it's detected. And of all the rust removers, My Cleaning Products said that "right" solution is the Rusterizer.
As MCP explained, unlike most of the rust removal solutions, Rusterizer is made with organic-ingredients. So, it's not a risk to anybody's health. Plus, it works with no scrubbing needed so it makes the rust removal both easy and safe.
Additionally, the company affirmed that it is also effective. That, it said, had been proven true by so many rust contractors. In fact, it shared that a number of them even declared they were able to cut their spending by half, thanks to the said product.
If Rusterizer could do those things to them, My Cleaning Products said that surely, it could do the same to other rust victims and contractors. And so, it encouraged the public to pick it over others and save 50% off their rust removal expenses. But to make sure it is worth it, the company urged them to try its samples first and see for themselves how well it works.
As it shared, Rusterizer Complimentary Sample is available at MyCleaningProducts.com.