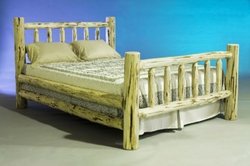 Ensuring the furniture customers order online arrives in perfect condition is an important part of choosing a new furniture manufacturer for the Wholesale Furniture Brokers' websites
Tampa, FL (PRWEB) January 28, 2009
Montana Woodworks® is a leader in the rustic furniture market and produces items that are hand-crafted locally in the United States. Wholesale Furniture Brokers has added 44 Montana Woodworks® items that are now available for customers to order. Each piece of furniture with log accents is constructed from carefully selected lodge pole pine that is hand peeled using an old fashioned draw knife by master craftsmen. The techniques used ensure genuine, solid wood furniture that will last for generations. Each piece of furniture produced is offered with a 20 year warranty. "When we design furniture, we create products intended to be heirloom quality. Heirloom quality means the product is meant to be handed down from generation to generation," says Duane Hostetler, owner of Montana Woodworks® when asked what makes Montana Woodworks® different. "Customers are not likely to find an heirloom quality import. All of Montana Woodworks® items are designed and built to last a lifetime."
Being environmentally friendly is one of the top issues manufacturers need to recognize and practice in order to improve their reputation and actually make a difference. Montana Woodworks® has been using particular eco friendly methods of harvesting timber since it started in 1991. All of the lodge pole pine used in the furniture is harvested by hand without the use of heavy equipment. This technique leaves a much smaller footprint on the landscape. Each tree harvested is carefully selected for its quality, straightness, and size. After bringing the tree down, it is hand carried to a main road to make sure the tree is not damaged and the landscape is left without scaring. "Only trees that are standing dead, that is, they have died and not yet fallen, are chosen for our furniture," says Duane when asked if Montana Woodworks® has any green or sustainable practices of notability. "Removing the standing dead timber from the forests greatly reduces the damage of catastrophic firestorms that have often devastated our lands." Montana Woodworks® is strongly committed to protecting the renewable resources of the surrounding forests. No wildlife habitat is harmed during operations as trees large enough to be inhabited are generally too large to be used in the products.
Wholesale Furniture Brokers is currently expanding its furniture selection to include new wood furniture categories that target customers searching for hand crafted log furniture. Products including log beds, dining tables, futons, chairs, accent furniture, cabinets, and patio furniture by Montana Woodworks® can now be found on the Wholesale Furniture Brokers' website. The queen and king size log beds are currently the top selling products by Montana Woodworks®. Customers can add matching furniture pieces to create complete rustic bedroom sets. The standardized manufacturing practices used help ensure high levels of inventory and industry leading turn around times. "Wholesale Furniture Brokers is one of the fastest growing networks of furniture outlets in America," says Duane when asked why he chose to partner with Wholesale Furniture Brokers. "Wholesale Furniture Brokers has the stability, experience, and resources required of a major player, one who understands the importance of customer service and satisfaction in a time when it's all too common to cut back things like that."
Montana Woodworks® maintains high quality standards for all packaging materials and practices. Various aspects of the process are rated before packages are sent to customers including the package to product ratio, cube utilization, average distance to transport the materials, recycled content, recovery, sustainable materials used, and the protection levels by the various box sizes and wrap thickness. Most orders ship within days due to years of logistics experience by Montana Woodworks®. "Ensuring the furniture customers order online arrives in perfect condition is an important part of choosing a new furniture manufacturer for the Wholesale Furniture Brokers' websites," says Matt Holmes, Marketing Manager for Wholesale Furniture Brokers. "Montana Woodworks® is a great addition to the line up due to their attention to detail and high quality standards. Customers will love the natural and rustic look this furniture will bring into their home."
New products are currently being designed by Montana Woodworks® including their new line, Urban Reflections. The new collection will be on display at the prestigious World Market Center in Las Vegas this February. This collection will take a step away from the traditional rustic log furniture designs that are currently in the line up.
About Wholesale Furniture Brokers
Wholesale Furniture Brokers launched its USA website, GoWFB.com, in 2002 offering a revolutionary "Click and Mortar" ecommerce experience. With over 30 independently owned affiliate outlets in the USA and Canada, Wholesale Furniture Brokers provides customers with local and online support. Shoppers can choose from an increasing collection of worldwide styles at Wholesale Furniture Brokers. Furniture retail businesses and interior designers interested in ordering furniture available on GoWFB.com and GoWFB.ca including Montana Woodworks® can apply for Wholesale Furniture Brokers' furniture dealer and vendor program.
###