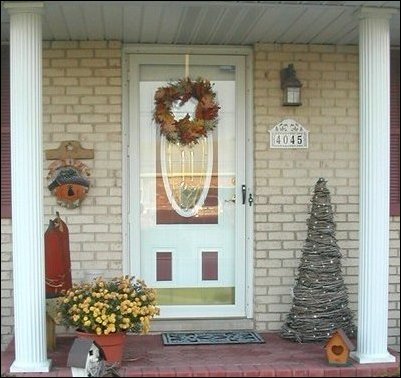 Springfield, OH (PRWEB) September 26, 2006
Crafted from flexible, durable woody vines into a conical shape resembling a Christmas tree, Grapevine Trees are available in a range of sizes from a compact 12 inch all the way up to a large, dramatic 46 inch tall. Already popular on front porches in the Midwest -- usually found with a string of clear lights -- these "trees" are a growing year-round trend, both indoors and out. Decorators love them because they can be trimmed in a multitude of materials, adding a bit of rustic, country charm in every season.
Here are just a few ways you can use your own Grapevine Tree . . .
Outdoor decoration: 46 inch Grapevine Trees are found everywhere in Ohio, usually on the front porch, decorated with clear lights. The lights are left on day and night. They are a year round decoration. Smaller trees are also used, sometimes setting on a table, etc.
Centerpiece: Trim a small grapevine tree as desired, adding flowers, pine cones, or other seasonal décor, and brighten the dining room table.
Night Light for a child's room: Add a string of miniature lights in your child's favorite color and place on nightstand or dresser for a cheerful, comforting glow.
Bird Feeder: Make strings of popcorn and "decorate" your tree. Add pine cones covered with peanut butter and birdseed, strings of "o" shaped cereal, and other goodies to feed our feathered friends in the winter.
Photo display: Use small clips, tacks, clothespins, or even glue to attach small photos to the "tree" for a creative display that's as permanent or temporary as you like it.
Message Board: Use clips, tacks, or clothespins to attach note cards to the "tree" and post messages by the phone, reminders, shopping lists, or notes of encouragement.
Base for floral arrangement: Use clips, ribbons, ties or hot glue to attach seasonal flowers and foliage, either real or artificial, in a 3-D, conical display. Damp moss can be added to the hollow inside of the "tree" and stems woven between the branches.
Seasonal décor: Why limit tree decorating to Christmas? Decorate a conical grapevine tree for Valentine's Day, Easter, the Fourth of July, Halloween, and more.
Christmas card holder: Use clips to attach Christmas cards as you receive them during the holiday season.
Interior/exterior accent lights: Wrap strands of miniature lights in your color of choice, add a switch, and place your new accent light anywhere a gentle glow is needed in your home or landscape.
Candy bouquet for a gift: Use tape, pins, tacks or clips to attach wrapped candies such as butterscotch or peppermints to a small grapevine tree. This makes a wonderful gift for teachers, Scout leaders, and anyone else who deserves a special "thank you."
RusticDecorating.com has been selling U.S.A. made home decorating products since 2001. A favorite gift site, known for its security and Better Business Bureau status.
###