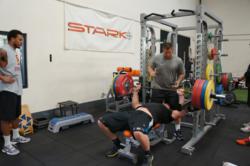 "I knew I had something special in me, I just never knew how to train properly to get it to come out," states Swope. "Prohaska and Bodanis taught me so much detail about what I needed to do and pushed me past any limits I thought I had."
Irvine, CA (PRWEB) March 22, 2013
STARK SPORTS PERFORMANCE, a leader in rapid transformation of elite athletes, trained NFL hopefuls who competed in the NFL Combine, February 23rd through the 26th, including Ryan Swope. Swope impressed scouts with his speed, running a 4.34 40-yard dash, which was the second fastest time. His college football career at Texas A&M had him slated for a mid-round pick in the NFL draft, but after his impressive performance at the combine, experts predict he may be selected in the first several rounds.
Prior to STARK SPORTS PERFORMANCE Swope's fastest 40-yard dash time was 4.56, but under the direction of Scot Prohaska, the Vice President of Athlete Development for STARK, he was able to shed over two tenths of a second off his time in the several months leading up to the combine. Prohaska cites that this improvement was from correcting a misalignment in his hips and increasing his strength in his hamstrings and glutes. His customized diet, supplement plan and workouts also gave him a more athletic physique when he gained six pounds and lost 5% body fat. But more importantly he showed that he is an overall athlete and diverse enough to play any wide receiver position on the field.
"I knew I had something special in me, I just never knew how to train properly to get it to come out," states Swope. "Prohaska and Bodanis taught me so much detail about what I needed to do and pushed me past any limits I thought I had."
Another standout client of STARK TRAINING was Luke Marquardt who was voted best physique at the 2013 NFL Combine. When he began working with STARK he was 6'6" tall, weighed 264 pounds and 19% body fat. After just two months he weighted 271 pounds, but his body fat had dropped to an incredible 13%. This development in body composition and strength helped him bench 225 pounds a staggering 31 reps at the combine.
Between Stark's ability to induce rapid body composition changes, lower stress levels, improve recovery, and in-depth understanding of sports performance and strength training, these athletes are in the best shape of their careers thus far.
"I'm very proud of these guys," states Prohaska. "They have all put in a tremendous amount of effort and dedication to this sport they love. I'm confident they will all continue to see their athleticism improve and we're honored to be a part of it."
ABOUT STARK: With an elite team of coaching specialists using some of the most sophisticated training techniques as well as personalized diets and high quality supplements, Stark is a national leader in sports performance for athletes. http://www.starkathletes.com, 17524 Von Karman Avenue, Irvine, CA, 92614.