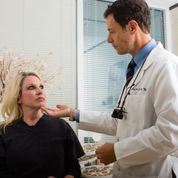 I would like to invite anyone in the Houston Metro community concerned about any possible signs or symptoms of rosacea to make an appointment to see me for a complementary medical evaluation.
Houston, TX (PRWEB) March 14, 2013
WHAT IS ROSACEA?
Pronounced "roh-ZAY-sha," rosacea is actually a common disorder affecting the facial skin. It is rarely discussed and poorly understood.
Professional estimations are that it affects well over 16 million Americans; however, most do not know it. Actually, while rosacea increases its widespread presence, a Gallup survey has indicated that 78 percent of Americans have no knowledge what-so-ever about this condition. This lack of knowledge means they also do not know how to recognize it or what to do about it.
A person with rosacea may experience facial redness after drinking a hot beverage, consuming caffeine, sunlight exposure, or a variety of other triggers including emotional stress..
EMOTIONAL EFFECTS
The National Rosacea Society has conducted surveys which reveal that over 76% of rosacea patients said they felt that the condition had lowered their self-confidence and self-esteem, while 41% reported an effect of avoiding public contact or cancelling social engagements.
Rosacea patients with severe symptoms further reported by a majority of 88% that the disorder had adversely affected their professional interactions, while 51% said they had been forced to miss work because of the seriousness of the condition.
SYMPTOMS
The cause of rosacea is yet unknown and there is actually no cure.
The following warning signs are indicators that would warrant a free rosacea screening by Dr. Patt
for diagnosis and appropriate treatment before the signs and symptoms become increasingly severe:

Redness appearing on the cheeks, nose, chin and/or forehead
Small blood vessels that become visible on the face
Facial bumps or facial pimples
Watery eyes and/or irritated eyes
As the condition progresses, it can present serious complications, such as rhinophyma (a disfiguring nose enlargement), inflammation (inside the eyes, lids and surrounding areas) or recurrent conjunctivitis.
TREATMENTS
Today, medical help is available that can bring a large degree of control to a situation where the signs and symptoms can often be life-disrupting.
DR. BRAD PATT
Dr. Patt is a physician whose respect in the community is generated by both his skills and his community involvement. He enjoys educating people with his email and blog newsletter The Mirror as well as in person. His focus and area of expertise is facial cosmetic and reconstructive surgery.
Just call 281-649-7170 or click here to learn more information about Dr. Patt as well as to request your complimentary rosacea screening.
Strategic Advisors for the Internet (SA4i) is an online Internet Presence Management authority representing Dr. Patt and a significant growing number of prestigious clients.