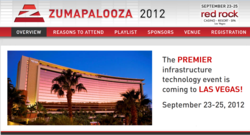 The monitoring data we collect and aggregate can tell compelling stories about your business if you know where and how to look at it.
Santa Barbara, CA (PRWEB) September 19, 2012
LogicMonitor, the leading SaaS-based monitoring solution, today announced Gold Sponsorship of Zumasys' Zumapalooza IT infrastructure technology event, September 23-25 in Las Vegas. LogicMonitor will showcase its comprehensive hosted monitoring solution, which enables companies to monitor their entire infrastructure – networks, servers, virtualization, applications, storage, and websites – from the cloud.
Zumasys, a leading provider of customized cloud computing solutions for SMBs across North America, leverages LogicMonitor to monitor their state-of-the-art cloud hosting platform, built on the latest virtualization technologies from VMware, NetApp, Cisco, and Citrix. The SaaS-based solution simplifies monitoring today's complex, multi-vendor data centers, and eliminates the burden of managing an on-premise monitoring infrastructure.
LogicMonitor Founder and Chief Product Officer Steve Francis will also be on hand to speak to attendees on the topic of Monitoring as the New Profit Center. "Many companies consider infrastructure monitoring to be just another cost center," says Francis. "But the monitoring data we collect and aggregate can tell compelling stories about your business if you know where and how to look at it. I'm going to give some compelling examples of companies that turned their monitoring data into tangible business benefits and profits."
Zumapalooza 2012 takes place at the Red Rock Casino-Resort-Spa in Las Vegas. The three-day infrastructure technology event will feature breakout sessions on Disaster Recovery, Public/Private Cloud Computing, Custom Mobile Software Applications, Storage/Virtualization, Security, and more. Attendees will also be treated to a private presentation by Crush It! Author and social media authority Gary Vaynerchuk, as well as a private tour of the 407,000 square foot SuperNAP, the tenth largest data center in the world.
Companies can get immediate access to a 14 day free trial of the full version of LogicMonitor at http://www.LogicMonitor.com.
About LogicMonitor
LogicMonitor is the Cloud-based IT monitoring solution that enables companies to easily and cost-effectively monitor their entire IT infrastructure stack – storage, servers, networks, applications, virtualization, and websites – from the cloud. LogicMonitor unifies physical, virtual, and cloud infrastructure monitoring to ensure system-wide availability and performance. Headquartered in Santa Barbara, California, LogicMonitor was founded by a team of data center operations experts on a mission to make monitoring powerful and simple. The company is a NetApp, VMware, Dell, HP, and Citrix technology partner. The company has been recognized for its monitoring excellence by TechRepublic, WebHost Magazine and the Best of SaaS Showplace (BoSS) for delivering outstanding business value. For more info visit us at http://www.logicmonitor.com.