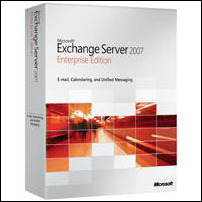 With the substantial growth in demand for collaborative messaging, more and more service providers are interested in offering Hosted Microsoft Exchange Server 2007
Burlington, MA (PRWEB) June 4, 2007
groupSPARK, a Microsoft Gold Certified Partner and the leading Software as a Service (SaaS) provider of private label services including Microsoft Exchange Server, announced today that it is now offering private label Hosted Microsoft Exchange Server 2007, which provides significant upgrades to the industry-leading platform for e-mail, mobility and collaboration. This private label Hosted Exchange Server 2007 is immediately available to channel partners and resellers to help meet the unique messaging needs of their customers.
groupSPARK is the first provider to bring private label Hosted Exchange Server 2007 to market using the Microsoft Solution for Hosted Messaging and Collaboration (HMC) Version 4.0 - the only platform that Microsoft has designed, tested and validated for Exchange Server 2007 hosting.
Benefits of Private Label Hosted Exchange.
According to a recent survey of the hosted services market by Osterman Research, the market for Hosted Microsoft Exchange Server will grow from its current base of 1.4 million mailboxes to over 7 million mailboxes by 2009. This growth represents over $600 million in new revenues. In order to get started in the SaaS market, an Exchange hosting provider needs to spend between $250,000 - $500,000 in capital expenses for servers, enterprise-grade SAN, software and systems as well $200,000 on an ongoing basis(1).
"With the substantial growth in demand for collaborative messaging, more and more service providers are interested in offering Hosted Microsoft Exchange Server 2007," said John Zanni, director of Worldwide Hosting at Microsoft Corp. "By working with companies such as groupSPARK, who utilize the Microsoft HMC platform, resellers can offer their customers advanced messaging and collaboration solutions, and increase their revenue per user with minimal risk and time to market."
groupSPARK enables its channel partners/resellers to be up and running in minutes without incurring high initial investments or recurring management costs. As part of groupSPARK's private label SaaS offering, their state-of the-art Private Label Application Delivery (PLAD) platform allows partners/resellers to easily re-brand its entire service so that all URLs, logos and contact information on its control panel are branded with the partners' look and feel. The partner can also integrate the branded control panel into their own web portal, thus, providing their end customers a completely seamless experience of utilizing services provided by the partner versus those hosted by groupSPARK. Alternatively, if a partner prefers to keep the customer experience within their existing control panel, PLAD also exposes an XML Web Services API for provisioning, billing and reporting functionality. These capabilities and integration options have allowed large and small partners to offer Hosted Microsoft Exchange Server using groupSPARK's platform.
"groupSPARK partners are able to significantly increase their average revenue per user by offering hosted Microsoft Exchange Server as an additional service to their customers," stated Ravi Agarwal, groupSPARK chief executive officer. "They can take advantage of our powerful private label technology and are able to utilize Microsoft's validated HMC technology for Exchange Server Hosting without any of the upfront investment or time delay. This lets them take advantage of the explosive growth in the hosted Microsoft Exchange Server marketplace."
About groupSPARK
Located in Burlington, Massachusetts, groupSPARK is a leading provider of SaaS services, such as Microsoft Exchange Server, SharePoint Services, and Dynamics CRM, which can be completely private labeled and resold by partners as a part of their own product offerings saving hundreds of thousands of dollars in development and support costs.
Its partners utilize groupSPARK's turnkey private label platform to provide hosted services to their users in minutes. Partners are able to address scalability and uptime concerns by leveraging groupSPARK's 100% uptime SLA, 24x7 U.S.-based support and proactive hardware and software monitoring capabilities.
(1)groupSPARK internal estimates for a platform which will scale up to 10,000 mailboxes.
The names of actual companies and products mentioned herein may be the trademarks of their respective owners.
###