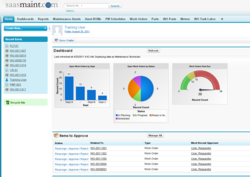 "The ease of use and technology alignment with Salesforce CRM allowed us to deploy SaaSMaint CMMS very rapidly."
- David Lafferty, CIO
SAN FRANCSICSO, Salesforce.com Dreamforce Conference (PRWEB) August 31, 2011
SaaSMaint.com today announced Tidewell Hospice has selected and deployed SaaSMaint CMMS / EAM via AppExchange. SaaSMaint CMMS / EAM enables Tidewell to manage preventive and corrective maintenance in 21 facilities across four counties in Florida. By ensuring its facilities are well maintained through a comprehensive preventive maintenance program, Tidewell is able deliver on its mission of helping people live well, by providing care, comfort, and compassion. Built using Force.com, the social enterprise platform for employee apps, SaaSMaint CMMS / EAM is immediately available for test drive and deployment on AppExchange at http://www.salesforce.com/appexchange/ .
The announcement was made today at Dreamforce 2011, the cloud computing event of the year. SaaSMaint will be in booth #21 in the Dreamforce Expo.
"Health care organizations are increasingly looking for ways to improve the efficiency of their facilities and the utilization of their facility engineering resources," said Mike Edwards, founder, SaaSMaint.com. "SaaSMaint CMMS / EAM on the AppExchange enables us to deliver cost effective and functionally robust CMMS / EAM solutions to leading companies like Tidewell Hospice."
Tidewell needed a solution to manage preventive and corrective maintenance for facilities, support systems, and vehicles across 21 sites. With SaaSMaint CMMS / EAM for Salesforce, Tidewell was able to leverage its current investment and technical competency in Salesforce CRM and find an easy to use, cost effective, functionally robust AppExchange app.
"The ease of use and technology alignment with Salesforce CRM allowed us to deploy SaaSMaint CMMS very rapidly," said David Lafferty, chief information officer, Tidewell Hospice. "Leveraging SaaSMaint CMMS / EAM on the AppExchange gave us enterprise-wide visibility to all of our assets and work orders. We can now quantify the amount, location and type of facilities maintenance work in our backlog. We can more effectively measure our performance, budget for repair expenses and plan capital improvements."
"Before deploying SaaSMaint CMMS / EAM, we were a paper-driven maintenance department. Today, our technicians can use mobile computing devices to access documentation on the fly," said Bill Brummett, director of operations, Tidewell Hospice. "Our productivity has been greatly improved. The reporting capabilities have been a key benefit for us. We are now able to easily produce documentation on our activities to support our regulatory compliance reporting. There is measurable accountability throughout the entire process."
"Customers coming to Dreamforce will have to chance to see how partners like SaaSMaint exemplify the extraordinary reach of the AppExchange marketplace," said Ron Huddleston, vice president, ISV Alliances, salesforce.com. "Apps like these continue to push the social, open, mobile and trusted capabilities customers expect from the salesforce.com ecosystem."
Dreamforce 2011 is the cloud computing event of the year. The ninth annual conference will welcome more than 30,000 customers, partners and developers to the new world of the social enterprise. With more than 450 sessions and 250 cloud companies in the expo, Dreamforce offers the content and educational opportunities that enable attendees to tap into the power of the social enterprise.
About the Force.com Platform and AppExchange
Force.com is the trusted social enterprise platform for building and running any employee app in the cloud. Force.com powers the Salesforce CRM apps, the more than 200,000 custom apps used by salesforce.com customers such as Japan Post, Kaiser Permanente, KONE, and Sprint Nextel and the more than 1,200 ISV apps built by partners such as BMC, FinancialForce.com and Fujitsu.
Enterprise apps built on the Force.com platform can be easily distributed and marketed through the salesforce.com AppExchange http://www.salesforce.com/appexchange/.
The salesforce.com social enterprise platform delivers the most trusted and comprehensive cloud technologies for social, mobile and open apps. It includes Force.com, the cloud platform for employee apps, Heroku, the cloud platform for customer apps and Database.com, the cloud database to integrate the social enterprise.
Salesforce, Dreamforce, Force.com, Heroku, AppExchange and others are trademarks of salesforce.com, inc.
About SaaSMaint.com
SaaSMaint.com is a privately held company with deep domain expertise in Enterprise Asset Management. SaaSMaint CMMS/EAM is a native Force.com application, benefiting from the reliability, scalability and performance of salesforce.com's trusted enterprise cloud computing platform. For more information about SaaSMaint.com, please visit http://www.SaaSMaint.com or call 678-932-9286.
About Tidewell Hospice
Tidewell is a 501(c) 3 not-for-profit agency serving patients and families who are living with advanced illness in Florida's Sarasota, Manatee, Charlotte and DeSoto counties. When quantity of time is no longer possible, Tidewell Hospice's focus is quality — making the most of the time that remains. It's a concept of celebrating life and the relationships that make every day special. To learn more, visit http://www.tidewell.org
###