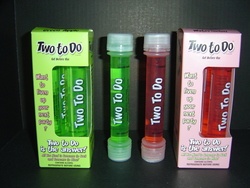 Suck and Blow is truly an add on and does not take away from any other sales it brings a whole new segment to the industry which is truly amazing
(PRWEB) November 1, 2007
SAB Enterprises, LLC, a Greenville, SC-based company, announces a product line extension that will revolutionize the alcohol industry much as Red Bull has revolutionized the soft drink industry. SAB Enterprises, LLC, a five year tube manufacturer and bottler of the first ever interactive beverage called Suck and Blow , is announcing their first line extension called Two To Do. Suck and Blow has been their core product for the last 5 years selling over 15,000,000 tubes. They sell empty tubes on their web site suckandblow.com where people can purchase and fill with their own gelatin beverage of choice. These are sold in all 50 states including Canada, Japan, New Zeeland, Bogota Columbia, and United Kingdom. SAB also sells filled product (pre-made with alcohol already in the tubes) through distributors in 22 states throughout the US.
Doug Hamer, President SAB Enterprises says, "SAB Enterprises is an established brand in the alcohol industry that is not about getting people drunk much like other brands out there but it is about bringing people together and having fun. The product is truly based on the premise of bringing 'two people together.' One person sucks and the other blows, hence the name Suck and Blow."
The brand extension Two To Do allows SAB to break into the Convenience and Grocery store markets. People that buy a 12 pack of beer buy a 4 pack of Two To Do or Suck and Blow along with the 12 pack. People purchase the product for that instant interaction it brings to any social gathering. When a person sees two people brought together laughing and having fun at a party, bar, wedding or what ever the social occasion might be they want to be apart of the fun excitement also. That is what this product does it brings fun and excitement like no other product EVER has done in the alcohol industry.
According to Miller Brewing Co.'s Beer Industry Market Analysis blog, beer manufacturers continue to loose market share and are looking for avenues to gain market share by bringing on new products SAB Enterprises, LLC offers not only a new category in the alcohol industry (what everybody looks for in starting a business is being able to open up a new category in an established industry). SAB Enterprises has not only opened up that category but they are also adding an add-on for existing beer or liquor distributors' portfolios, increasing their market share.
"Suck and Blow is truly an add on and does not take away from any other sales it brings a whole new segment to the industry which is truly amazing," says Ed Timmerman of Republic National Distributing in Columbia, SC.
SAB Enterprises, LLC home is in Greenville, South Carolina. Entrepreneurs Doug Hamer and Brian Higgins formed SAB Enterprises in order to provide a new and exciting way for young adults to enjoy an alcoholic beverage in nightclubs, bars and resorts worldwide.
SAB offers a solution for bar owners and event planners to build profits, while enhancing entertainment and socializing for its patrons. The SAB concept is solely based on the popularity of alcohol shot sales worldwide. SAB offers this new and exciting concept in ready-made packaging for patrons to consume and play! Suck and Blow will revolutionize the traditional way patrons consume alcohol shots.
Contact:
Doug Hamer
President
SAB Enterprises, LLC
20 Grand Ave Suite E
Greenville, SC 29607
864-242-6000
864-242-6023 fax
http://www.twotodo.com
http://www.suckandblow.com
# # #