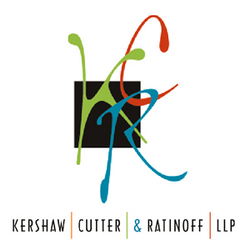 We've always been believers in giving to organizations that help our community thrive
Sacramento, CA (Vocus) November 3, 2010
'Help spread Thanksgiving throughout Sacramento!' reads the status update on their Twitter time line. 'For every new fan who "likes" our Facebook page, we'll donate $5 to the Sacramento Food Bank.'
There's a new wave of lawyers entering the social networking sphere, and Sacramento personal injury and class action law firm, Kershaw, Cutter & Ratinoff, has found a way to leverage social media for social good. At a time when charitable giving is down and non-profits are struggling just to maintain their administrative costs, this group of civil justice attorneys has dedicated their Facebook page to supporting local charities throughout the year. Each month, they will donate a sum of money for each new fan who 'likes' their page.* Starting in November, in honor of Thanksgiving, their organization of choice is the Sacramento Food Bank.
"We've always been believers in giving to organizations that help our community thrive," says partner, Eric Ratinoff. "And what better way to get others involved in supporting our community than through the most popular social networking site on the web?"
Attorneys engaging in social networking is a hot topic of late. Although many firms view social media as yet another portal to advertise their legal services, Kershaw, Cutter & Ratinoff see it as an opportunity to be more interactive with the rest of the world. They post daily, weekly and monthly updates to sites like Twitter, Facebook, LinkedIn, Word Press, YouTube, Flickr, and Digg, where they meet new contacts and carry on conversations with the general public.
"Our goal with social media is to listen to what people are saying and respond appropriately," says Bill Kershaw. "And considering the economic times we're in right now, a lot of people are struggling. It just seems right to use this opportunity to help make sure everyone in Sacramento can enjoy the holiday season."
According to Brooks Cutter, "It's sort of a 'pay it forward' concept. Hopefully it will be contagious."
To become a Facebook fan and help support the Sacramento Food Bank, click to visit Kershaw, Cutter & Ratinoff's Facebook page.
*Monthly donations not to exceed $5,000.
If you would like more information on this topic, or to schedule an interview with one of our firm's partners, please call Taryn Smith at 916.448.9800 or 888.285.3333.
Kershaw, Cutter & Ratinoff is a Sacramento personal injury and class action law firm specializing in helping injured people with cases involving catastrophic injuries, such as brain and spinal cord injuries, major medical misdiagnosis, California motorcycle accident lawsuits, and insurance bad faith issues. They've helped groups of students across the United States recoup money lost to fraudulent trade schools, and they're currently representing a number of California residents who have had to undergo painful hip replacement revision surgeries due to the recent DePuy hip replacement implant recall. Their lawyers have represented thousands of victims of catastrophic injuries, product liability, whistleblower lawsuits and wage and hour disputes in cases throughout the United States, generating millions of dollars in lawsuit recoveries for their clients and the classes they have represented.
###