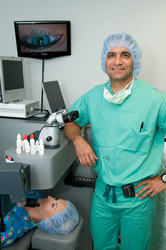 We are pleased to add another highly qualified surgeon from a highly regard university-based laser and refractive practice in Dr. Vahid Feiz at UC Davis Eye Center
Sacramento, CA (PRWEB) September 15, 2010
Trusted LASIK Surgeons announced today that Vahid Feiz, M.D. who practices at UC Davis Health System Laser Vision Correction Service, is now featured in the Trusted LASIK Surgeons Directory, an informational resource for consumers seeking vision correction surgery procedures like LASIK and a highly qualified refractive surgeon to perform their surgery/procedures. Dr. Feiz treats patients with LASIK and refractive eye surgery in the Sacramento area, including Roseville, Davis, Rancho Cordova, Woodland, Stockton, and Lodi. He regularly performs laser eye surgery and other vision correction procedures on patients from all over California and surrounding areas.
Trusted LASIK Surgeons directory service screens all laser eye surgeons who apply to ensure that highly qualified LASIK & Catarct surgeons who are among the best in the United States are listed. Each eye surgeon is screened based on experience, premier patient care, and professional credentials. In Trusted LASIK Surgeon's opinion, Dr. Feiz's outstanding credentials place him among the top LASIK eye surgery and refractive surgeons in the United States. Dr. Feiz, like most of the vision correction surgery specialists in the Trusted LASIK Surgeons Directory, is also an accomplished cataract surgeon with proven professional experience.
One of the significant professional qualifications that set Dr. Feiz apart from the typical LASIK surgeon are his experience his academic appointment as an Associate Professor of Ophthalmology at UC Davis Medical Center, where he also serves as the Director of Laser Vision Services and the Director of Refractive Surgery. In addition to his teaching of residents and fellows in ophthalmology at UC Davis, Dr. Feiz is certified to train other LASIK and refractive eye surgeons in the use of the Allegretto Excimer Laser manufactured by Alcon and has served as Examiner for the American Board of Ophthalmology since 2006. Dr. Feiz has published 15 peer-reviewed scientific articles and 2 text book chapters. He has also made over 15 presentations on research topics at local and national meetings of his fellow eye doctors.
Dr. Feiz performs laser eye surgery, including LASIK as well as other vision correction refractive surgery procedures on patients with nearsightedness (myopia), farsightedness (hyperopia), astigmatism (blurred vision), and presbyopia. Dr. Feiz has the proven know-how to provide patients with the experience care when it comes to receiving professional vision care. He has over 10 years of professional experience in laser vision surgery, including LASIK eye surgery, refractive surgery procedures such lens implants, and cataract surgery. He has been chosen by other eye surgeons, optometrists, opticians, employees of companies that specialize in refractive surgery instrumentation and their family members to perform their LASIK, other vision correction procedure, or cataract surgery. In addition, new patients who had significant complications with LASIK eye surgery or other vision correction procedure performed by another surgeon have come to Dr. Feiz to manage and treat their complications.
Dr. Feiz's practice at UC Davis Health System Laser Vision Correction Service seeks to provide patients with the highest standards of vision care by offering the Wave-Front Optimized laser treatments including both LASIK and PRK. Dr. Feiz offers not just laser vision correction surgery, but other procedures like RLE/CLE (lens implants), corneal transplants (including DSAEK and DALK partial cornea transplants), limbal relaxing incisions, and cataract lens implants procedures to give patients a full range of options when it comes to choosing the vision correction procedures most suited to them.
Certified by the American Board of Ophthalmology, this highly qualified LASIK and refractive surgeon is a fellow at of the American Academy of Ophthalmology, and a member of the American Society of Cataract and Refractive Surgery, the Pan-American Association of Ophthalmology, the Eye Bank Association of America, and the California Academy of Eye Physicians and Surgeons.
"We are pleased to add another highly qualified surgeon from a highly regard university-based laser and refractive practice in Dr. Vahid Feiz at UC Davis Eye Center," commented James J. Salz, M.D., Chief Executive Officer of Trusted LASIK Surgeons. "Dr. Feiz has been very active as an instructor to residents, fellows, and other eye surgeons in laser vision procedures, including LASIK, along with the latest in lens implant techniques as well as management of complications from refractive and cataract surgery procedures. He has also published and lectured in the field of ophthalmology and we are honored to add him to our national directory of outstanding refractive and cataract surgeons."
Visit Sacramento, CA LASIK Eye Surgery Expert Vahid Feiz profile page at Trusted LASIK Surgeons
To learn more about Dr. Feiz's LASIK and refractive eye surgery practice, please visit UC Davis Health System Laser Vision Correction Service website
To contact Dr. Feiz's office please visit Contact Laser Vision Correction Service at UC Davis Health System
For more on why consumers should consider surgeons listed in the Trusted LASIK Surgeons directory for their vision correction needs, please visit:
Why choose a Surgeon from the Trusted LASIK Surgeon's Directory?
For an honest discussion on what LASIK costs, tips on how to save money on LASIK, and a free Cost of LASIK Checklist, please visit our
The screening process and standards used by Trusted LASIK Surgeons are located at How Are LASIK Eye Surgeons Qualified at Trusted LASIK Surgeons?
To find a highly accomplished LASIK and refractive specialist or cataract surgeon in your local area who has been qualified and listed in the Trusted LASIK Surgeons directory, please visit Trusted LASIK Surgeons Directory
About Trusted LASIK Surgeons, Inc.
Trusted LASIK Surgeons, Inc. (Trusted LASIK Surgeons) is a premier LASIK, refractive and cataract surgeon directory service. We believe the surgeons featured in our LASIK directory are among the best refractive surgeons in the United States as demonstrated by their professional accomplishments and recognition by their fellow eye doctors. Our primary mission is to assist consumers in finding the most qualified LASIK and vision correction surgeons in their local area. To accomplish this, Trusted LASIK Surgeons uses a unique screening process where each prospective LASIK eye surgeon must meet minimum qualifications set by Trusted LASIK Surgeons. These standards are based on experience (not just in LASIK but complete refractive care), research (including FDA approval studies for manufacturers and academic appointments at major universities), certification to train other eye surgeons in the use of laser and other devices used in refractive surgery, publications and lectures to other eye doctors, and patient care standards such as using the latest technologies in refractive surgery, treating other eye professionals, and managing complications of patients first operated on by another eye surgeon. All refractive eye experts surgeons profiled at Trusted LASIK Surgeons have qualified, been accepted, and have subscribed to our services. In addition, surgeons featured in our directory are experts in cataract surgery, lens implants, and other vision correction procedures. For more information on why we believe consumers interested in improving their vision through LASIK or another refractive surgery procedure should strongly consider an eye surgeon listed in the Trusted LASIK Surgeons directory, please visit our website at http://www.TrustedLASIKSurgeons.com.
Trusted LASIK Surgeons, Inc.
(800) 483-8028
About UC Davis Eye Center, Laser Vision Correction Services
Patients who choose UC Davis for vision correction can be assured they will receive the most technologically advanced treatment and the highest quality of care. In addition to being experts at performing LASIK, Custom LASIK and other vision correction surgical techniques, our highly experienced, board-certified ophthalmologists are scientists in the UC Davis Department of Ophthalmology and Vision Science, so patients can count on the surgeons at UC Davis to be well-versed in the field's latest discoveries and best treatment options, which, in many cases, they helped to develop.
UC Davis Eye Services
77 Cadillac Dr.
Sacramento, CA 95825
Appointments: (916) 734-6650
Online: Contact UC Davis Health System's Laser Vision Correction Services
SOURCE: Trusted LASIK Surgeons
###