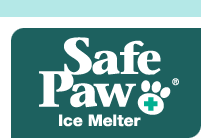 Salt and other chemicals used to remove ice during the winter can be harmful to cats, dogs, and other animals... Safe Paw Makes Paws Safe!
Los Angeles, California (PRWEB) November 29, 2012
SafePaw, a pet-friendly ice melter, partners with Sweepstakes Ninja to offer consumers the chance to win SafePaw products. SafePaw has been featured in numerous pet related periodicals, and numerous news shows such as Good Morning America, the Today Show and Marth Television. Sweepstakes Ninja helps consumers engage with brands such as the pet friendly ice melter SafePaw, through social media, video marketing, blogging, partner websites and forums, and more through their online sweepstakes giveaways.
Originally branded under the patented SafeThaw, SafePaw is pet friendly and designed for pets. It helps prevent slips and falls, designed to be safe for pets and children, and is designed not to stain or destroy flooring. Gaia Enterprises, Inc., is the inventor and manufacturer of the Safe Paw (Safe Thaw) ice melter.
Sweepstakes Ninja offers consumers the chance to enter multiple sweepstakes through their innovative online sweepstakes draws (http://sweepstakesninja.com/sweepstakesdraw/draw/safepaw-ice-melter/). They are daily entry draws, that not only give consumers chances at winning amazing prizes, but also give companies daily branding exposure to consumers. Through the sweepstakes draws, contestants have a chance of winning one of The SafePaw products for their pets, sponsored by SafePaw.
The sweepstakes promotion officially runs until December 1st, 2012. To increase their chances of winning, the entrant may share sweepstakes links with friends, family, and through social media. This is a win-win situation for both SafePaw and the entrant. Entrants increase their chances of winning award winning products, and more people learn about the SafePaw product line. There have already been 10,000+ individuals introduced to the SafePaw product line through Sweepstakes Ninja.
About SweepstakesNinja.com
SweepstakesNinja.com is the leading provider of fun and interactive sweepstakes. The company matches consumers with companies, in a fun and interactive manner. Consumers have the chance of winning amazing prizes. Companies benefit from daily exposure to their brands, word of mouth advertising, customer loyalty, and long term increases in profit. Visit http://www.sweepstakesninja.com/ for more details.