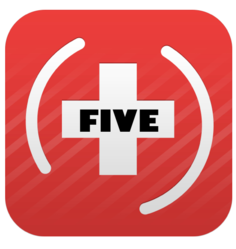 When life gives you lemons, make lemonade - proverbial saying.
Santa Barbara, CA (PRWEB) March 01, 2013
We've all heard the saying, 'When life gives you lemons, make lemonade.' It's inevitable that some times we will experience days when life isn't as easy as a walk in the park. Emergencies, accidents and mishaps do occur at one time or another, whether we are ready for them or not. Though no one is immune from lemon situations, sugar is a great way to sweeten the experience. It is in these moments in need of help when the iCall4Help safety app comes in handy.
In essence, the app is a communicator, in a mobile version.It's always there, if needed. It works manually with one touch as well as automatically like an alarm. Because it's built on a smart phone platform it multiplies the speed of connecting by combining the 5 most commonly used methods of social communication. It can execute all of the methods at once, simultaneously, empowering people to reach out faster in a more comprehensive way.
Here are 5 useful features which can be life-saving when calling for help:
1. It's unlimited.
No matter how sour the situation is, people who respond to help are the sugar. With iCall4Help there is no limit on the number of contacts that can be added to the app. The app is designed to send notifications and alerts to any number of people in the phone's address book.
2. It's a multi-communicator.
The iCall4Help app can reach out in 5 different ways: by phone, text, voice, email message and, coming soon, Facebook. Choose one or all of the options for how each contact would be alerted. Whatever the preferred communication method happens to be, it's covered.
3. It's international.
iCall4Help works internationally and it can deliver alerts to anyone on the globe. This can be critical when traveling, whether it's for business or pleasure. Be connected with co-workers and family anywhere around the world.
4. It's smart.
The iCall4Help app is so smart that it can even automatically call for help on one's behalf. It simply works as an alarm that - if not turned off - will trigger an alert to the designated contacts.
5. It's instant.
iCall4Help works immediately with the touch of one button and alerts all of the designated contacts at once. Instantly connect to family, friends, neighbors and emergency responders, such as 9-1-1. The alert will contain the most important information, including the real-time GPS location on the map so that one can be found.
The iCall4Help service is available 24 hours a day, 7 days a week, 365 days a year on a secure and reliable server. It provides independence and confidence and gives peace of mind for loved ones. It sets up in minutes and is easy to use. It gets help quickly when needed. There are no monthly fees or contracts, no installation of equipment is necessary and there are no wearable devices, bracelet or necklaces required.