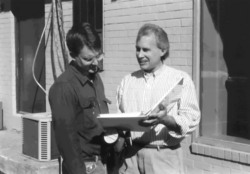 Las Vegas, NV (PRWEB) October 13, 2008
Black Mountain Safety & Health, Inc. has updated their training courses on Safety Orientation to give them a fresher, more current look, as well as to include all of the latest information on the most important safety issues facing employees today. This updated program is available on Video/DVD, Interactive CD-ROM or Online.
Thinking about safety should be as natural as thinking about other aspects of the job. Employees should be able to anticipate the possibility of accidents before they happen. Yet workplace accidents cause millions of people to suffer painful injuries every year, and cost business almost $90 billion per year in medical bills, lost wages and lost production time.
Safety Orientation Training DVDs and Videos distributed by Black Mountain Safety & Health, Inc. address two of the most prominent safety issues confronting employers today... that of developing a good safety attitude in their employees, as well as providing introductory safety training. Topics covered in the products include:

Developing "safety awareness".
Basics of accident prevention.
Hazard evaluation.
Safety housekeeping.
Tool use and maintenance.
Fire prevention and safety.
Use of personal protective equipment.
And more.
For more information please visit: Safety Orientation Video.
Under the Occupational Safety and Health Act of 1970, employers are responsible for providing a safe and healthy workplace for their employees. With that in mind, OSHA regulations specify that businesses provide proper training on a variety of topics. Black Mountain Safety & Health, Inc. offers a comprehensive selection of safety kits, safety videos, books, compliance manuals, and safety posters designed to help you comply with OSHA training requirements. Black Mountain Safety & Health, Inc. created the award-winning website, http://www.safety-video-bmsh.com/Orientation_c_260-1.html, which offers training kits and packages on the following topics: Absestos Awareness, Bloodborne Pathogens, Confined Space Entry, Electrical Safety, Ergonomics, Fall Protection, Fire Prevention, First Aid, Forklifts, HAZCOM or Right-to-Know, HAZMAT, HAZWOPER, and much more.
###