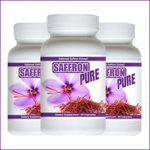 Saffron Pure free bottle giveaway.
(PRWEB) March 12, 2013
Saffron Extract Pure is a natural supplement that is taken to suppress the appetite, reduce stress and improve mood. Saffron is a flowering plant used mostly as a spice. The stigma of the flower is dried and then turned into a highly concentrated extract. This extract, the main ingredient in Saffron Extract Pure, triggers a release of serotonin in the brain.
Saffron Pure is offering a free bottle with the purchase of two for a limited time. The free bottle give-away is to let people try the advanced saffron formula for three full months. In addition, Saffron Pure is extending the 60 day money back guarantee for this promotion.
Snacking and overeating are two other triggers that release serotonin, so by replacing these triggers with Saffron Extract Pure, you don't feel the urge to snack. Saffron Extract Pure is the perfect product for individuals who often eat to satisfy their emotional needs. As the mood improves and evens out, emotionally eating behaviors diminish.
The effectiveness of Saffron as an appetite suppressant isn't just hearsay; it has been tested in numerous clinical studies. In one such study, published in a 2010 issue of the journal Nutrition Research, researchers tested the effectiveness of saffron when used to curb appetite and reduce snacking. The participants in this double blind study were given either a 176mg saffron extract supplement or a placebo. Both groups were not required to stick to any certain diet or calorie restrictions. At the end of the 8 week study, those who took the saffron extract supplement showed a greater reduction in body weight and snacking frequency than those who took the placebo. Participants who took the saffron extract also reported feeling more satisfied for a longer period of time after eating.
Because saffron extract is a natural product, there are little to no side effects. In clinical studies, no adverse reactions to saffron extract have been reported. Many of the other appetite suppressants on the market cause a number of uncomfortable side effects like heartburn, indigestion, nausea and headache.
While there are other products on the market that claim to contain saffron extract, many do not contain the full 100mg of saffron that Saffron Extract Pure does. This is the recommended dose that should be taken to achieve the best results. Another difference is that Saffron Extract Pure contains a proprietary blend of other natural ingredients that boost the metabolism and burn fat while the saffron extract works to curb cravings, making it easier to stick to a diet and see results quicker. There is also the added benefit of feeling calmer and more satisfied after eating a meal.
To find out more about the Saffron Extract Pure, visit http://www.saffronextract.us.